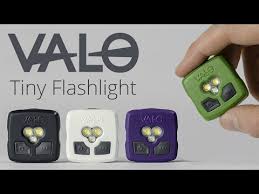 Source: Nyker Design via Kickstarter
Summertime is upon us, which tends to mean more outdoor adventures. A UK-based design agency called Nyker Design has just launched a new product that may be of use to the outdoorsmen this summer.
The company has started a Kickstarter campaign for its new product, VALO. VALO is a small, versatile flashlight that is waterproof, rechargeable, lightweight and easily transported. Its uses include running, camping, cycling, dog walking, photography and can also be used on more rugged job sites. The flashlight can be worn on clothes, used as a headlamp, placed on a key ring and wrapped around an object.
VALO has a magnetic clasp that allows the user to mount it wherever they want. It has three different white light modes, high white (50 lumens), medium white (20 lumens), and low white (2 lumens), as well as a flashing mode in white. It also has a red light,

Source: Nykler Design via Kickstarterwhich has two different modes, red and flashing red. The light is at a 90 degree beam angle. Depending on what light mode VALO is in, it can last from 1 ½ hours to 10 hours. The light does not dim as the battery drains, the light brightness will stay the same even when it is about to die. The battery is a lithium-ion battery, which is rechargeable and comes with a micro-USB charging cord.
VALO's body measures 36.5-by-37-by-15.5 millimeters and weighs 30 grams. It is made of specialist heat conductive plastic. The cord is a marine standard polyester cord with a stainless steel reinforced cord holder. The magnets are earth neodymium magnets. Its body is made out of specialist heat conductive plastic. It is durable through any kind of heat.
To learn more about VALO or to help raise funds for the company's product launch, visit the Kickstarter page here.