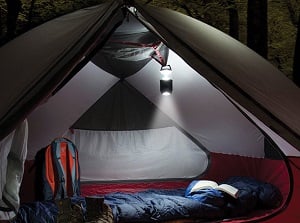 The Radiant® 200 Collapsible Lantern + Flashlight. Image credit: Nite Ize
Nite Ize has been rolling out some cool lanterns, including its rechargeable light emitting diode (LED) lantern that can be used for 110 hours in low-power mode but also comes equipped with two integrated USB ports to charge your smartphone or other mobile device through its lithium-ion battery.
Now, Nite Ize is rolling out two new small lanterns, including the Radiant 100 Mini Lantern and the Radiant 200 Collapsible Lantern + Flashlight.
The collapsible lantern/flashlight provides 200 lumens of brightness in a compact and durable frame. The lantern functions as a traditional lantern or can be used as a handheld flashlight. The carabiner handle allows the lantern to be clipped, carried or hung anywhere. The lantern can be collapsed with a sliding motion that transforms it into a flashlight or for packing and storage. The lantern is powered by 4 AA batteries for a six-hour run time on high light. It is water and impact resistant, and is priced at $29.99.
The Radiant 100 Mini lantern features a soft silicone dome that is squished down when packed and has both high and low white LED modes as well as a red mode. The 100 lumen lantern runs on AAA batteries and will run on high up to eight hours, while being priced at $15.99.