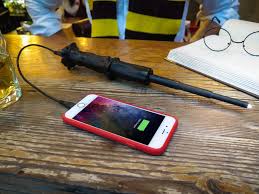 Source: Cellder
The Cellder Wand has launched on Kickstarter. Starting at $25 for the Super Early Owl price (Super Early Bird), the Cellder Wand is the world's first extendable wand power bank. Created by the team at GGTR, the power bank is designed with gamers in mind.
The Cellder Wand has a 3,200 milliampere-hour (mAh) lithium-ion battery that can portably charge any device and provides hours of charge time.
The tip of The Cellder Wand has an LED light bulb, so the wand can also double as a flashlight.
It has an extendable design that also collapses completely into the handle so that it takes up less space than a traditional power bank. If you want to "activate wizard mode," the telescoping portion of the wand is spring-loaded and automatically extends when the button is pressed.
The wand measures 13 inches long and is made of polyurethane. At the core is a 3,200-mAh lithium-ion battery. Currently on Kickstarter there is a Super Early Owl pricing of $25 and an Early Owl pricing of $29. After these promotions end, the Cellder will be available for the full price of $50.
Learn more about the Cellder Wand at Kickstarter.