The volatile and hazardous environments of volcanoes render close-up monitoring of emissions, heat signatures and seismic activity almost impossible for instrumentation and researchers. Bring in the "dragon eggs," the U.K.'s autonomous and intelligent sensor pods designed to monitor volcanic activity for months at a time.
Designed at the University of Bristol, U.K., the dragon eggs are deposited on volcanic slopes by drone and remain dormant until seismic or thermal activity is detected. Sensor-driven detectors are then activated,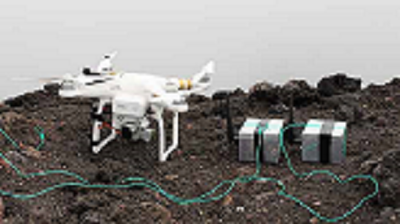 The drone alongside the silver 'dragon eggs' at the top of Italy's Stromboli volcano. Source: University of Bristoltransforming the egg into a full-featured remote monitoring station with a wireless transmitter.
Instrumentation is incorporated into the devices to measure temperature, humidity, vibrations and toxic gases. The energy-efficient eggs use a powerful wireless transmitter to send data to a base station with a satellite uplink at a safe distance of up to 10 km. A "clutch" of eggs synchronizes together to form an intelligent low power sensor network with a star topology, enabling the network to function even after several eggs have been engulfed in lava and flames.
With the lowest standby power consumption of any such equipment, the event detectors are activated by pulses as low as 5 picojoules, equivalent to 100,000 times less than the energy released by human contact with a fruit fly.
Here's another video capturing an unmanned aerial vehicle dropping a dragon egg sensor pod on the active Stromboli Volcano in Italy.