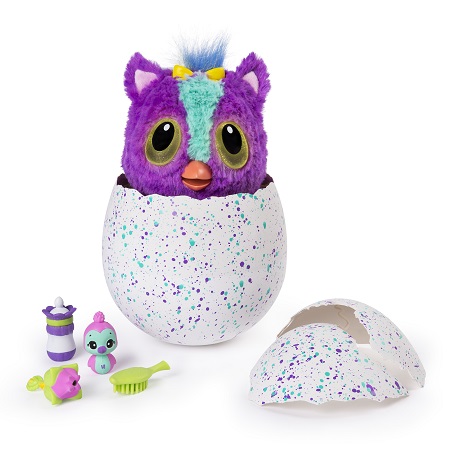 Source: Spin Master Ltd.Just in time for the holidays, the newest addition to the Hatchimals family of "hatching" interactive toys has arrived: HatchiBabies.
Designed for kids 5 and up, the creatures sport large color-changing eyes and moveable beaks. Out of the box, they are presented inside speckled "eggs" and respond to being handled as a way of building anticipation for their eventual "hatch." That auspicious event is heralded by the rainbow eyes that can be seen shining through the egg's shell, and the sound of "Rock-a-bye-baby" being sung. In order to complete the hatch, the egg must be rubbed and the shell peeled back in order to reveal the creature inside — as well as its gender (the toys come in packaging that reads "Will You Hatch a Boy or a Girl?").
Additional accessories, which may differ depending on the "species," are hidden inside the egg. The creatures are designed to respond in ways similar to human babies: They can be fed, burped, tickled and snuggled; they can also play games and learn to talk. According to Hatchimals manufacturer Spin Master, more responses are unlocked the more the creatures are played with.
Following a number of events to mark Hatchimals Day this past weekend, the toys are now available online and in-store at retailers including Target, Walmart and Amazon (MSRP $59.99 USD).