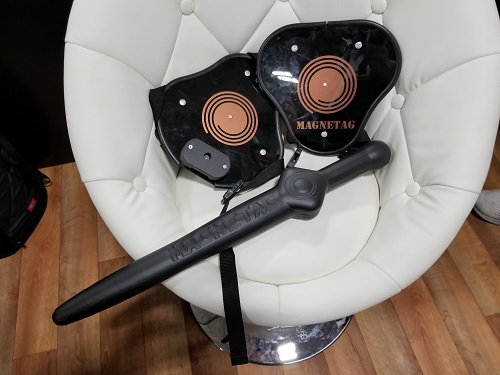 A LARP sword system that uses sensors and magnets is part of the Hardware Studio platform. Source: Peter Brown/Electronics360During CES 2018, Electronics360 got to sit down with Avnet regarding its partnership with Kickstarter to help startup companies get up and running with a solid campaign and bring it through the entire process from prototype to actual products.
The project is called Hardware Studio and the goal is to provide tips and tricks as well as resources to make the manufacturing process less daunting for small companies just starting out. Avnet, which made its first trip to CES, has also recently launched its Path to Prototype box that is designed to help startups get a successful start on hardware projects.
"Hardware Studio is focused around this idea that hardware is exciting and the future," says Bob Merriman, emerging opportunities enthusiast for global customer engagement at Avnet. "It is the reason people wait in line for the latest technology. People love hardware. But hardware is extremely difficult. A lot of times it is first-time, early stage creators that don't truly understand what's involved, from going from an idea to a product that can be manufactured and sold."
Hardware Studio is a platform to make it easier for makers and startups to bring projects to life via Kickstarter. Avnet and Dragon Innovation, which the distributor acquired in August of last year, will engage with creators about four to six months prior to launch. Inside Hardware Studio is a portion called Connection where Avnet and Dragon dive in and get hands on with the creators tailoring offerings to specific challenges.
"If a company is having problems with a design or their BOM is too high, Avnet can jump in and see where Avnet can optimize the design," Merriman says. "Or someone has a prototype but has never manufactured anything before and doesn't know the first thing about manufacturing. Avnet and Dragon then can provide the resources to get a relationship with a manufacturer whether that be in China or elsewhere."
From the backers' side of Kickstarter, Avnet wants to make the Hardware Studio icon a standard so they have confidence that what they are backing will be delivered. Many problems exist with actual delivery when it comes to crowd-funding, and Avnet wants to alleviate this by working with the creators to ensure not just that the product comes out, but comes out on time.
Since launching the program back in September of 2017, Avnet has received more than 80 total applications and about 20 of those have been accepted, Merriman says. In some cases, Avnet has not accepted some of the applications because they are not hardware based. In other cases, the timeline is too rigid for Hardware Studio to get involved, so they have to pass.
"The ones that are in the right spot are the ones that have made some tangible progress." Merriman says. "Avnet has also had some companies come to us once the campaign was already over and where we helped with either manufacturing or finding the right resources for them to finish with delivery."
A few of the successful campaigns through Hardware Studio include Goliath, an autonomous robotic CNC machine for makers that can roll and create on any surface and Waggit, a smart collar for dogs that measures a pet's well-being as well as nutrition tracking and activity monitoring.
Avnet is also working with a company called Magnetag, which has created a sensor-based sword fighting system for people that do live action role playing (LARP). It is a very simple sensor system that a player wears. The weapons have magnets in them and when the player gets hits, it collects the data.