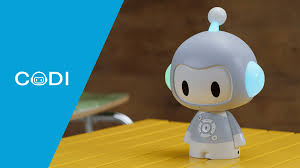 Source: Pillar Learning
Pillar Learning is launching Codi, an artificial intelligence (AI)-enabled toy that provides children with interactive content and developmental support outside of the classroom with minimal screen time.
Codi, who stands at 8.5 in tall, shares hundreds of classic songs, stories and lessons that are based on a child's age, interests and ability. Codi presents children with content through a research-proven format that supports mental development. Codi incorporates a real, highly expressive voice with visual cues to keep children engaged and entertained while they are learning. Codi is made from soft, high-quality and stain-resistant materials.
Codi uses AI to offer an experience that is customized for each individual child. Parents are able to administer lessons, set up useful tools (such as leaving their child a voicemail), facilitate important habits (like brushing teeth) and have access to valuable insights on their child's developmental progress, all through the Codi app. Codi functions easily on the go with downloadable content and Wi-Fi connection capabilities.
Codi is currently available for pre-order on Kickstarter.