Children are watching screens more than ever. The average preschooler today watches around three hours of TV, film and other videos every day. Entertainment is huge for preschoolers. With the right kind of programming, this screen time allows children to learn and it also gives parents time to get things done while their child is distracted.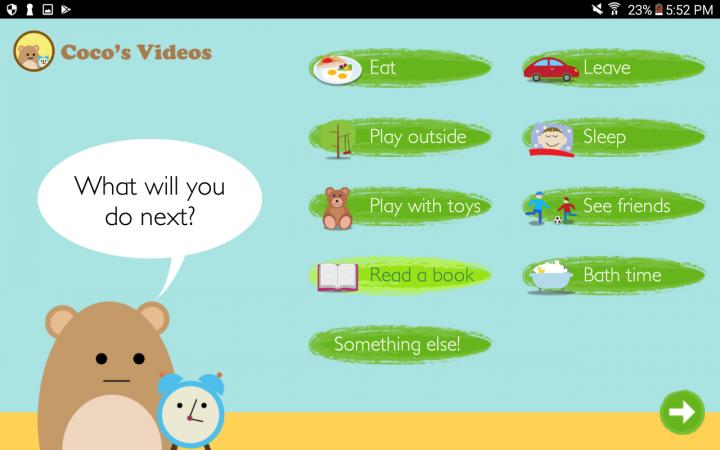 A screen shot of 'Coco's Videos,' an app designed to research children's interactions with technology. (Source: University of Washington)
But parents are also worried that their kids are being negatively affected by playing on iPads or other devices. Worry no more parents! New research says that mindful play with an adult on a program that has thoughtful design features can actually help your child's growth, not hinder it, but parents need to be choosy with their apps. The key is thoughtfully designed content that drives parent-child interactions provides children with the same kind of play and development that analog toys do.
The research, led by Alexis Hiniker assistant professor in the University of Washington's Information School and co-author of the research paper, found that app designers have a few choices when they are creating an app for children. They can either decide to take advantage of a child's attention or respect it. They also have to choose if they are going to make an app that disrupts a child's daily life or adds to it in a positive way. Parents have choices too -- they need to monitor the apps that their children are using and choose apps that are thoughtfully designed.
"Kids are going to consume content," Hiniker said. "If they're going to consume content it should be high-quality."
During the study, the researchers studied what happens when parents and children play with a digital device together. The researchers found that, when playing on a device, both the child and the parent are less engaged than when they are playing with a traditional toy. But Hiniker said that this doesn't mean that digital experiences are negative.
The study suggests that observing how parents and children engage with digital devices and traditional toys can help app developers and device makers create apps that expand the minds of children. Some of the things that app developers can do include: permitting multiple users in apps, allowing apps to be interrupted and including specific roles for parents. Developers also need to present their content so children can make their own decisions.
The researchers developed their own app, Coco's Videos to study how preschoolers interact with different options when watching online videos. In the study, kids were given iPads that had three versions of the app that showed the kids a pre-planned playlist of YouTube videos. One app locks out the kids after they watch one video. The second version prompted the kids to play another activity after they have watched the video and encourages them to put down the device. The third option used auto-play so the kids continue watching new videos. The researchers watched how likely the kids were to put down the iPad during play with the three levels of continuous watching.
"We demonstrated experimentally that you can systematically change the design of an app to undermine kids' autonomy or to foster it," Hiniker said.
The preschoolers were more tempted to continue watching the videos with the version of the app that had autoplay. The autoplay features frustrated the parents and the children had fewer opportunities to decide when they wanted to put down the device. With auto-play, the child watched the video even though the app prompted them to play in some other way. Auto-play allows app developers to take advantage of children's attention.
"As soon as the next one starts, it's so much harder to stop," said co-author Julie A. Kientz, an associate professor of human centered design and engineering at the UW.
Parents should demand that children's apps encourage their children to learn and take screen breaks. They can make their position clear by thinking about what apps they download on their child's device.
"You have power as parents to request this," Kientz said. "Vote with your dollar."
This research was presented at CHI 2018 in Montreal, Canada.