Logitow is an interactive smart tool for kids aged 3 to 12, made up of smart building blocks combined with a powerful app that bridges the gap between the screen and reality.
Logitow uses mixed reality and the smart building blocks to build anything a child can imagine. As the creations take shape, the model becomes a 3D animation mirrored on-screen and real-time, integrating the virtual world and real world.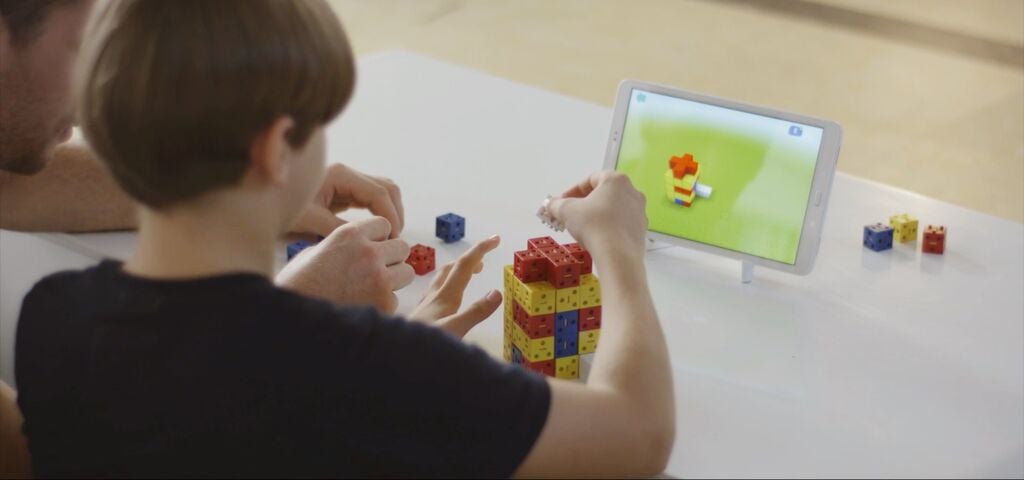 The Logitow building blocks for kids (Logitow)
Utilizing mixed reality technology, an interaction between smart toys and screen animation is achieved. Logitow creates an interactive experience that strikes the ideal balance between screen time and physical building. This is a good activity for early childhood education and STEM education.
Children are naturally curious about electronics and love to play on-screen games and apps, but many parents are anxious about too much screen time. Logitow understands this and combines an experience that sparks a child's imagination and engages them with hands-on interactive building. By combining physical activities with virtual ones, children have meaningful and educational interaction with electronics that bring them to reality.
Logitow smart building blocks use the latest mixed reality technology and an app that makes it all possible. The app allows free building as well as story themes that put children's creations into a featured story. In "free building" mode kids use their imagination to build anything they dream up. The "theme building" mode allows kids to interact with the kind of themes that they love, like spacecraft, cars, magic castles, ingenious inventions and more.
Logitow encourages cooperation, play with friends and provides valuable family time. The physical nature of building blocks develops the spatial ability and creative problem-solving. By involving friends and family, kids learn collaborative, emotional and social skills. Logitow smart building blocks are an effective tool for early childhood development and a great activity for STEM education. This system emphasizes a holistic approach to science, technology, engineering and mathematics that encourages collaboration, problem solving and creativity in kids.
STEM education is a proven learning philosophy that enhances early childhood development and provides skills that last a lifetime. Logitow is a learning tool for kids that create engaging new ways for kids to learn by playing.
To learn more about this new toy, visit the site here.