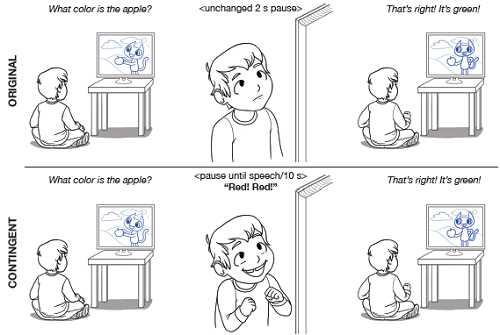 Younger children were more engaged when the virtual character waited for a response rather than answering automatically. Image credit: Disney Research
A trio of studies from Disney Research has shown that enhanced learning can be garnered from children by interacting with conversational robots and virtual characters.
Pre-school kids may be more engaged in a robot or virtual character if that on-screen character simply waits for their responses or repeats questions whereas an older child talking with a robot appreciates it when a robot references previous conversations.
"Teasing out these nuances is necessary if we are to make the interactions between automated characters and children as engaging as possible," said Jill Fain Lehman, senior research scientist at Disney.
In one study, researchers studied the responses of children aged three to five as they watched interactive television programming. The study examined how children react when the character responds as soon as the child finishes answering as well as when the virtual character repeats an unanswered question and when it indicates the answer is incorrect.
They found these kids were more than likely to verbally engage with the program when the character waited for a response and when unanswered questions were repeated.
"The bottom line is if your technology has a microphone to detect a child's response, then you should take advantage of it," said Elizabeth Carter, associate research scientist at Disney. "But you don't need to worry about speech recognition because kids this age don't care about the feedback."
In the second study, researchers examined collaborative storytelling. In this study, 78 children aged four through 10 were tested to see what happens if the robot makes suggestions as the child tells a story. These suggestions were based on the context of the existing story such as "What happens if our hero finds a kitten?" or "How about adding a kitten to our story?" The result was that kids enjoyed both types of suggestions.
"Children learn best when they are given difficult tasks within their reach," said Boyang Li, a researcher at Disney. "But the effects only become apparent over time."
The final study involved 67 children aged four to 10 interacting with a robot named PIPER. In one encounter, PIPER showed no indication it remembered previous encounters while in another it would make references to previous conversations. In a third experiment, PIPER had both its own memory of previous conversations and information provided by other observers of the children's activities.
The results were that younger children enjoyed conversations where PIPER did not remember any previous encounters while older kids were most engaged when PIPER seemed to remember them and share opinions.
"Compared with the other robots they encountered, older children who interacted with the version of PIPER with a persistent memory thought it was the most intelligent of the robots and was their favorite," said Lehman.
The researchers will present their findings from the three studies at this week's Interaction Design and Children Conference.