Industrial drone software vendor DroneDeploy recently raised $25 million in funding led by energy and industrial venture capital firm Invenergy, and AirTree, one of the largest venture capital firms in Australia.
The company is developing software technology to automate drones in order to better accomplish industrial missions such as surveying and inspection for the energy, construction and agriculture industries. The software also uses machine vision to create 3D maps of the areas where drones have taken hundreds of photos of the areas inspected or surveyed. These models allow companies to determine actionable insights into if their crops are being affected by weather or soil damage or if a wind turbine needs repair.
Mike Winn, CEO and co-founder of DroneDeploy, sat down with Electronics360 to discuss the recent series of funding, where the company is currently and where new technologies such as artificial intelligence will take the company moving forward.
What do plan on using the new funding for?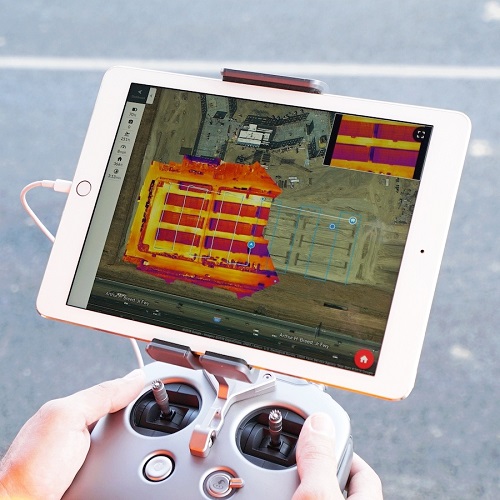 The software allows drones to be controlled remotely on site or autonomously. Source: DroneDeployWe plan to use the funds to extend our position as the commercial drone software market leader by expanding our ecosystem of over 80 apps and integrations. This round will also help us accelerate a series of industry-focused solutions. With increasing drone adoption in the energy, construction and agriculture industries, we also plan to invest heavily in artificial intelligence to build new workflows that solve some of the toughest challenges facing companies today — such as automated drone data analysis and reporting at scale.
Is the drone software used for only industrial drones such as construction, agriculture and energy markets or can this also be used in commercial drones?
DroneDeploy is a horizontal platform that is designed to make drone data accessible to everyone. With 30,000 users collecting data in 180 countries across 400,000 job sites, we have customers from almost every industry. But we see the most adoption in the construction, surveying, agriculture, mining, energy, real estate and insurance industries. Companies use drone technology to collect real-time data about projects, understand what's happening on site, and identify potential issues before they become costly.
What is drone mapping software used for and why is it important?
We build cloud-based software for drone mapping, making it possible to create aerial maps and 3D models with a single click. DroneDeploy's software automates drone flight and makes it easy to capture aerial data with our mobile app. The DroneDeploy software platform processes the imagery using computer vision —turning millions of images into thousands of maps and models every week for customers. After a customer has their map or 3D model, they can discover actionable insights like the volume of earth to move, the relative growth rates of crops and compare construction projects to blueprints.
How does the technology make workflows smarter and faster?
Drones and mapping software drive productivity, reduce costs, improve site safety and communication, and help companies manage risk with accurate aerial imagery on demand.
Drones are quickly replacing traditional forms of data collection ranging from satellite and manned aircraft imagery to manual inspection and measurements. Drones speed up the process and can cut anywhere from days to weeks off a project timeline.
At the simplest level, less time collecting and analyzing data reduces the resources required to complete a job. Digging deeper drone data can uncover issues before they become even more costly, saving companies much more than just time. From making faster in-field decisions to identifying new trends, drones provide unparalleled insights that deliver up to 5X cost savings for our customers.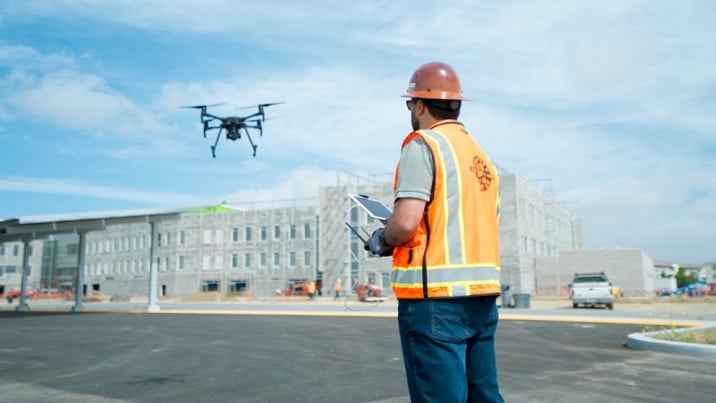 The software can be used in agriculture, construction or industrial markets where surveying is done. Source: DroneDeploySafety is always top of mind for our customers. In industries such as construction, roofing, and mining, it is not uncommon for workers to face serious injury — or even death — daily. Drones minimize the time spent inspecting dangerous areas such as roofs or construction sites, eliminating the need to put people at risk. Aerial maps also identify potential safety concerns and enable managers to contain environmental hazards before they become costly and dangerous.
Drones connect the physical and digital worlds. Our software helps customers better understand what's happening on their farms, job sites, properties and mines. By collecting real-time crop information from the sky, agriculture customers can spot problem areas in their fields and work quickly to stop the spread of pests, disease, and other issues hurting their plants. For construction customers, they can use drone photos, maps, and models to better plan, measure and manage projects.
What is the technology doing that isn't being done right now currently or is there anything that does this right now?
DroneDeploy is the first product capable of generating drone maps in real time. Our new feature — Live Map — gives customers instant aerial insights to make better decisions in the field, on the job site, and anywhere else they need to collect drone data. Live Map turns hundreds of acres into consumable maps without the need to go back to the office. Customers get accurate aerial views faster than ever before — without a laptop or even an internet connection.