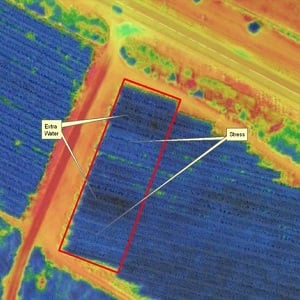 Multispectral orthomosaic showing irrigation issues. Source: Icaros Inc.
A provider of aerial imaging software and a supplier of multispectral sensors and analytics software have developed an integrated drone product as a multispectral mapping solution for agriculture. The product bundles OneButton software from Icaros Inc. (Fairfax, Va.) into the solution stack from Agrowing (Tel Aviv, Israel) to automate the workflow from image capture through fully indexed orthomosaic map production.
Combining Agrowing's multispectral sensor with Icaros' OneButton Standard Edition will enable users to process imagery into the high-fidelity, fully indexed maps deemed crucial for professional precision analytics.
Agrowing's sensor technology offers an advanced patent-pending multispectral solution to capture four 8 MP or 10 MP bands each, for NDVI and all other vegetation indices on a single sensor. The technology turns DSLR cameras into high-end multispectral cameras. The current offering is compatible with modified (full spectrum) Sony cameras coupled with Near IR and Red-edge lenses. Based on the NEX5, Alpha 5xxx, ILCE QX1 and other E-Mount cameras, Agrowing's solution provides 8 MP per band, and based on the Alpha 6xxx cameras, it provides 10MP perfectly aligned color channels. E-mount lenses are of 25 mm focal length and amazing <1 percent distortion. An additional wide angle, low distortion lens of 62 degrees HFOV is currently under development.
Icaros and Agrowing are working closely together to include a correction matrix for the distortion per sensor/lens combination that will be part of the OneButton processing.
Icaros' OneButton family for drone image processing lets end users easily and automatically generate geospatially precise, fully orthorectified 2D maps and 3D models from frame-based aerial imaging systems. Originally engineered for manned aircraft sensors, the OneButton software has been modified to accommodate the unique collection conditions of unmanned aerial systems (UAS).