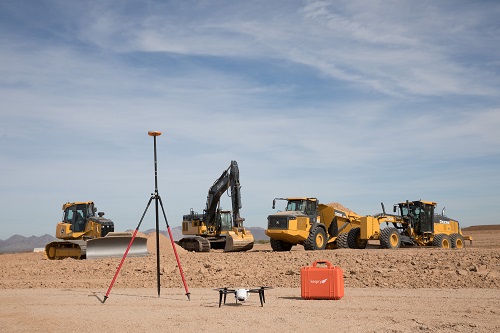 Drones can be used to make 3D topography of a construction site before the project begins, then track assets during the project. Source: John DeereDrone technology has come a long way from just being a fun hobby for taking aerial photography or entertainment and for military use. Now, drones are used across numerous industries for delivery of goods, research, new flight options, new racing sports, potentially exploring space and to take aerial selfies.
One emerging market for drone technology is in the construction field. While still in its nascent stage, drones are being used on construction sites to map building structures and sites using camera technologies and the mobility of the device to take photos and track projects, unlike what workers have been able to do before.
Currently, drones in construction are controlled via pilot, which is an additional cost to the operation and limits the scope of the tasks that can be completed. The ideal use of drones in any industry is that they will become fully autonomous. For this to happen, collision avoidance and obstacle avoidance technologies, which are currently in development, need to be considered.
IHS Markit forecasts that drones for use in construction, maintenance and demolition will grow to 126,000 units by 2020, up from just 5,000 units in 2015.
"Drones will continue to grow in importance on construction sites," Andrew Kahler, product marketing manager at John Deere WorkSight tells Electronics360. "Their usefulness in capturing high fidelity images and generating accurate 3D topography is transforming the way contractors collect data. The speed and efficiency of collecting data with drones is driving business results and makes this technology an important element on the jobsite today and in the future."
Current Uses for Drones in Construction
Drones are currently used for a variety of applications on construction sites. They are used in the early construction process to develop topographical maps of jobsites for bidding and resource calculations. Once construction begins, drones are used to monitor material moved as well as the amount of material present in stockpiles and to track equipment and other important assets.
As a jobsite progresses, drones provide valuable information on the status of the project and the amount of material that is left to be moved before completion, Kahler says.
John Deere is currently selling an artificial intelligence solution to construction sites and the aggregate market through its alliance with drone maker Kespry. These drones are used for stockpile inventory tracking, earthmoving progress tracking, topographical imaging for bidding and as-built verification and asset tracking.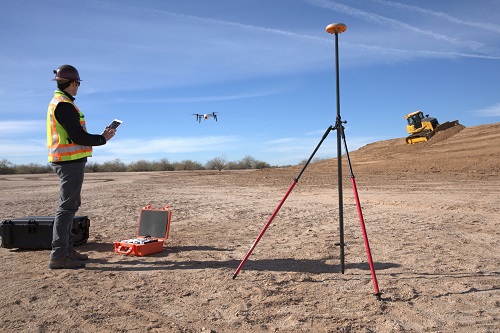 Drones may eventually be integrated with day-to-day operations on construction sites. Source: John Deere"Drones could assist by providing enhanced safety for everybody involved on site, as they are capable of monitoring parts of the building (for example, rooftops) where it is very risky for people to carry out the same inspection," says Adam Poole, senior research analyst for service provider technology at IHS Markit. "The inspection of larger constructions, including tunnels, bridges and roads could be carried out with safety, precision and speed. Having a wider view of the whole construction site may help to provide a better allocation of the resources to achieve maximum efficiency."
Future Uses of Drones in Construction
John Deere sees the use of drones growing in the years to come, as both autonomous and manual drones bring ease of use and repeatability that will be of value to many contractors. Eventually, drones will become integrated with day-to-day operations, Kahler says.
"As drones evolve to delivering more real-time data their role will become more critical," John Deere's Kahler says. "The real-time data will help contractors manage their operations in a way that simply wasn't possible in the past. Ultimately this will allow contractors to be more agile in the way they manage their resources and their operation overall."
Heavy Lifting Drones in Construction
Other future uses might be with heavy lifting drones being used to carry construction materials and tools, when the capabilities to carry larger payloads are more developed and regulations are opened up to allow for these activities to take place, further increasing the trust in drones, Poole says. This is also an area where John Deere is keeping an eye on but has yet to experiment with heavy lifting drones.
In the agricultural sector, heavy lifting drones are being seen as a possible use case.
"When the technologies are developed to the extent that they can carry heavy objects, this is when the business case for using drones will really become compelling," Poole says. "As far as we are aware, the greater need for drones at the moment is for them to become autonomous. So payload increase will most likely develop after autonomous operations are achieved. We are aware of a few manufacturers trying to design UAVs that can carry heavier payloads, or at least testing the water."