New Yorker Electronics has announced the release of Cornell Dubilier Electronics' (CDE) newest metalized polypropylene film capacitors for UPS, AC power supplies and general AC filtering applications. The 951C Round Axial Leaded and 953B Radial Leaded Box Metalized Polypropylene Film Capacitors offer strong performance for filtering in applications where high ripple currents are encountered and benign end-of-life failure mode is essential. The 951C has a cylindrical body with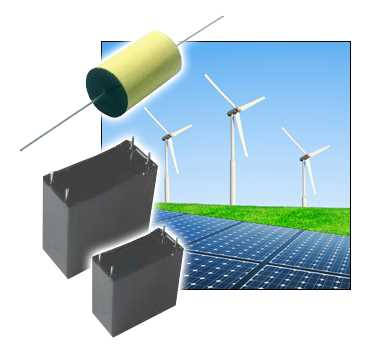 Source: New Yorker Electronics axial leads while the 953B has a rugged radial box form factor.
Both capacitors offer a fused, segmented metallization pattern, to provide significant circuit protection and the UL 810 approval assures fail-safe operation under fault conditions. The metallization pattern is deposited on a low-loss, high-grade polypropylene dielectric.
Built-in fuse-links limit capacitance loss is limited to a small segment within the capacitor. This is in contrast to the larger areas of uncontrolled capacitance loss observed with non-segmented types. This capability is not usually available for board-mounted capacitors.

The axial-leaded 951C Series is offered in values ranging from 0.825 μF to 40 μF, while the 953B spans 2.5 μF to 50 μF. Voltage ratings in both series are available at 160 VAC, 250 VAC and 275 VAC. Both types offer -40° C to +85° C performance and meet the requirements of UL 94V-0 for flammability.

With a 10,000-hour service-life expectancy without derating, series 951C and 953B capacitors will excel at providing reliable filtering and smoothing for today's demanding applications in UPS systems, AC power supplies and more.
New Yorker Electronics is a franchised distributor for Cornell Dubilier carrying the full line of aluminum electrolytic capacitors, AC oil-filled capacitors, DC oil-filled capacitors, film capacitors, MICA capacitors, ultracapacitors, surface mount capacitors, aluminum polymer capacitors, supercapacitors, plus capacitor hardware and capacitor kits.
951C & 953B Features:
• Fuse protection
• UL 810 recognized
• Low dissipation factor
• Self-healing
• 10,000 hours at rated voltage and 85° C
Applications:
• UPS systems
• AC power supplies
• General AC filtering
• Solar inverters
• Motor drives