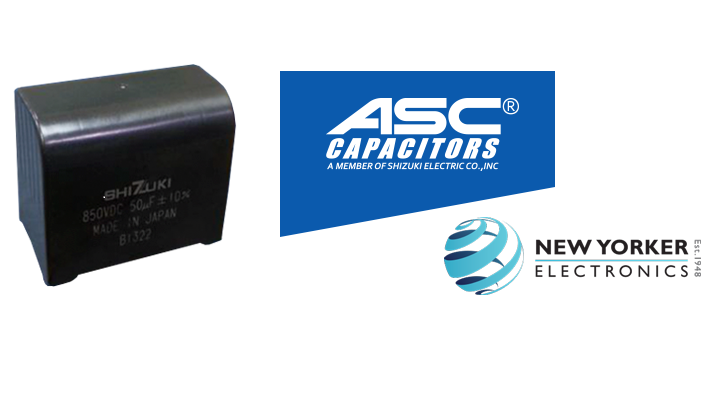 The new MEC-DL line of film capacitors is now available. Source: New Yorker ElectronicsThe new MEC-DL line of film capacitors from ASC Capacitors is now being distributed by New Yorker Electronics. Designed for printed circuit board (PCB) mounting, applications include frequency converters, micro inverters, solar inverters and DC filtering. With a compact size and <1nH per mm of lead spacing, they are conducive for low inductance. The series is available in both single-lead and dual-lead configurations to accommodate current/application requirements.
General specs are as follows:
Capacitance: 10µF – 100µF
Tolerance: ±5 percent, ±10 percent
Rated Voltage: 450, 850, 950 VDC
Temperature Range (operational): -40/85° C
Temperature Range (storage): -40/105° C
RMS Current: Up to 20 Arms
Standards: IEC61071
Case: PBT UL-94V-0 Standard
Fill Material: Epoxy
Terminals: Tin-Plated Copper Wire
Mounting Position: PCB Through Hole
Tan δ: 2 x 10-4 Polypropylene
Terminal-to-Terminal Test: 1.5 x Un 10 seconds
Terminal-to-Case Test: UT-CASE = 2000 Vrms @ 50 Hz for 10 seconds
Reliability: 100 FIT
Additional features and benefits:
Low ESR
Dry construction
Segmented film for safety
Designed for PCB
Low ESL
Can be used in arrays for bulk capacitance
Specific types:
ASC Capacitors MEC-DL Onboard Type Film Capacitors are high-frequency, high-stability, large current capacitors designed for DC links, connecting rectifiers and inverters. Tolerance options are either ±5 percent or ±10 percent and a VDC of either 450 or 850.
ASC Capacitors MEC-DL Metalized Polypropylene High Humidity Resistant Film Capacitors for DC Link are similarly high-frequency and high-stability, and are used in DC Linking and Filtering and inverter circuits for appliances. With their high tolerance for high humidity, they are also used for industrial power supplies, wind power generation and solar inverters. They also feature self-healing and fuse action for higher safety at end-of-life.
ASC Capacitors MEC-DL Low-Profile DC Film Capacitors are custom-ordered only. The low-profile version offers a capacitance range of 13uF to 66uF, have a ±10 percent tolerance and come in 450VDC and 850VDC. The terminals are tin-plated copper wire and mounted in PCB through hole.
For a data sheet, click here.
ASC Capacitors specializes in custom orders, so custom sizing on all lines is available. New Yorker Electronics is a franchise distributor of ASC Capacitors, carrying the company's entire line of DC filters, AC filters, snubbers, traditional film capacitors and metallized propylene-protected dry caps for HID lighting.