New Yorker Electronics is now distributing the new Barker Microfarad (BMI) 800P and 810P AC motor run capacitors. These units are non-polarized oil-filled metalized polypropylene film capacitors designed for continuous AC applications.
Oil-filled capacitors are designed for circuits requiring high reliability. Whereas aluminum electrolytic capacitors are nearly always polarized with a positive and a negative terminal, oil-filled capacitors are non-polar. This makes the 800P and 810P ideal for all voltage reversal applications.
The new capacitors are also self-healing, meaning they possess the ability to clear a fault area where a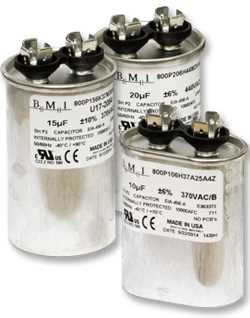 Source: New Yorker Electronicsmomentary short occurs, following a dielectric breakdown under voltage. The 800P has a single capacitance value, while the 810P has dual capacitance values and the voltages ranges of each type is 240 V AC to 600 V AC. They meet EIA 456 Specifications, are UL recognized and are RoHS Compliant.
These capacitors, available in round and oval sizes, are used in split phase motor, compressor, filter and other AC applications. The highly durable capacitor series is housed in aluminum cases with steel covers and different terminal configurations are available for various wiring options. The casings are also moisture and oil resistant.
A 0.25 in quadruple quick-connect terminal is standard but a 0.25 in triple quick-connect is also available, as are 0.25 in combinations of double, triple and quadruple terminals and 0.25 in solder lug quick-connect terminals. Mounting hardware and brackets are available to facilitate mounting. Units can be supplied with bleeder resistors if required.
New Yorker Electronics is a franchise distributor of Barker Microfarad and supplies its full line of AC motor run capacitors, AC motor start capacitors, military spec capacitors, mini axial capacitors, mini radial capacitors, tubular axial capacitors and tubular radial capacitors.
Features and Benefits
• Self-healing, metalized polypropylene film
• Oil filled
• Metal case, moisture and oil resistant
• Voltages from 240 to 660 V A C
• Single (800P) and dual (810P) capacitance values
• Meets EIA 456 Specifications
• UL-recognized capacitors
• RoHS compliant
Applications
• Split phase motor
• Compressors
• Filters
• AC applications
Data Sheet