A new series of metallized polypropylene AC filtering film capacitors from Vishay Intertechnology, Inc. (Malvern, PA) is optimized for high humidity environments. The Vishay Roederstein MKP1847H is the industry's first full-range AC filtering film capacitor series to withstand demanding temperature humidity bias (THB) testing — 85 °C, 85 % RH for 1,000 hours at rated voltage — without altering its electrical characteristics.
The capacitors are designed to ensure extremely stable capacitance and equivalent series resistance (ESR) values over a long service life under harsh environmental conditions. The robust devices are ideal for input and output filtering in outdoor renewable energy inverters and critical applications such as UPS for sensitive datacenters.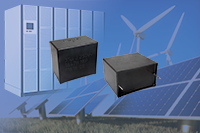 The MKP1847H from Vishay Intertechnology, Inc.
The units feature segmented film and offer rated capacitance from 1 µF to 35 µF and low ESR down to 3 mΩ. The devices provide high ripple current capabilities up to 24.5 A and rated voltages of 250 VAC, 310 VAC, 350 VAC, and 480 VAC.