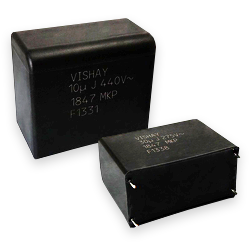 Source: New Yorker Electronics
New Yorker Electronics has released a new film capacitor that maintains exceptionally high robustness under high humidity. The Vishay Roederstein MKP1847H ACfiltering metalized polypropylene film capacitors feature maximum continuous AC voltages of 250VAC, 310VAC, 350VAC and 480VAC (50Hz / 60Hz range). It was also named a recent Vishay Super 12 Featured Product.
Designed to withstand high humidity environments, the Vishay Roederstein capacitor series is ideal for use in outdoor functions, renewable energy, welding equipment and more. It is intended for high power supplies and large drive applications.
The device is temperature humidity bias (THB) capacitor grade III — rated at 85 degrees Celsius, 85 percent relative humidity and 1,000 hours at rated UNAC.
Another important feature is the segmented film with segmented metallized electrodes to prevent full capacitor burnout. It has a rated capacitance range of 1µF to 36µF and capacitance tolerances of plus-minus 10- and plus-minus five percent.
Features and Benefits:
High robustness under high humidity
Rated voltages: 250VAC, 310VAC, 350VAC and 480VAC
250VAC, 310VAC, 350VAC, 480VAC maximum continuous AC voltage (50Hz / 60Hz) range, UNAC
40 / 105 / 56 B climatic testing class
Rated capacitance range: 1µF to 35µF
Segmented film
UL 810 (electrical pending)
85 degrees Celsius rated temperature
Applications:
Outdoor applications
Inverters and converters
High power supplies and large drives
Renewable energy
Welding equipment
AC harmonic filters
Uninterruptible power supply (UPS) systems
New Yorker Electronics is a franchise distributor for Vishay Roederstein and carries the full line of 2017 Vishay Super 12 Featured Products as well as its complete line of discrete semiconductors (diodes, MOSFETs and infrared optoelectronics) and passive electronic components (resistors, inductors and capacitors).