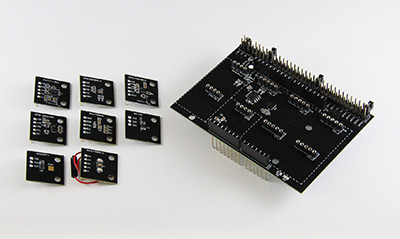 The SensorShield and eight sensor boards. Source: RohmRohm has introduced a new sensor shield expansion board equipped with eight sensor boards designed for use with microcontroller boards such as Arduino and Mbed.
The eight individual sensor boards — accelerometer, barometric pressure, geomagnetic, heart rate sensors and more — allow for easy configuration of a sensor environment by incorporating software and connecting to Arduino Uno or other popular MCU boards, Rohm said.
The SensorShield-EVK-003 enables immediate verification of sensor operation and facilitates the design of sensor devices, reducing development load while promoting the expansion of the internet of things (IoT) market.
The sensor shield and sensor evaluation boards are available separately. Documents and materials necessary for operating the sensor kit that can be downloaded from Rohm's website.