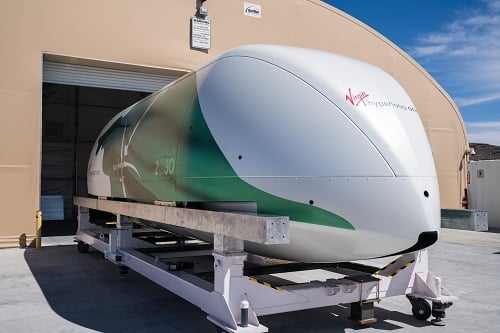 The hyperloop pod demonstrated in the Mojave Desert. Source: Virgin Hyperloop OneVirgin Hyperloop One recently received a visit from Mohammed bin Salman bin Abdulaiz, the Crown Prince and Minster of Defense of the Kingdom of Saudi Arabia, at the company's Virgin Galactic test site in the Mojave Desert.
The Crown Prince was there to see a demonstration of the state of the hyperloop Vision 2030 pod that will be used as a fifth mode of transportation in Saudi Arabia. Hyperloop boasts two to three times faster speed than high-speed rail and a direct to destination experience to help reduce journey times across the country. Traveling from Riyadh to Abu Dhabi would take 48 minutes instead of the multiple hours it currently takes via train.
Virgin Hyperloop One demonstrated the state of its Vision 2030 pod with a video that shows the pod enter a tube track and accelerate through the tube a short distance to its destination. While the journey is short, it does show that the technology is feasible if support can be garnered from local governments to enable the transportation to get off the ground.
The company says it plans to continue to work with Saudi Arabia in order to realize the transportation in the country as well as with other countries where Virgin Hyperloop One is currently in talks.
Recently, Virgin Group invested in Hyperloop One, which resulted in the company changing its name in addition to getting resources from the British entrepreneur. This was after the company secured an additional $85 million in funding.