The smart home may still be in its infancy worldwide but that hasn't stopped numerous companies from rolling out vast portfolios for home automation, including smart lighting (like Philips Hue), smart thermostats (like Nest), voice-activated assistants (such as Amazon Alexa and Google Home), smart blinds, home security, smart electric outlets and much more.
While many consumers are already delving into the home automation market (nearly one in five adults in the U.S. has access to a smart speaker according to research from Voicebot.ai), fear remains over the potential of getting hacked through smart home devices. About 70 percent of consumers said they were concerned about the lack of security in these devices.
Regardless of these fears, companies continue to push ahead with plans to include the smart home in the future of the household and that is driving the real estate market to get in on the act as numerous housing developers, apartments and rental aggregators are using smart home options as a value-added opportunity in attracting clients to their properties.
Built in vs. Doing it Yourself
While real estate builders are upping their presence with smart home technology, IHS Markit says the impact of these developments will be limited this year. This is due to two distinct divisions in the smart home market today.
The first is the custom electronic design and installation (CEDIA), where all parts of the home are seamlessly integrated and managed through one remote control, display or voice control. The other is the do-it-yourself/consumer installation involving multiple brands of technology all managed through different apps.
While some home buyers may likely to be influenced by a whole home audio system or automatic blinds that come with a CEDIA installation, the average middle-class smart home today has a Philips Hue, a Nest and a few door locks, managed through three to five different apps or an aggregator app such as Yonomi or SmartThings.
IHS Markit estimates there were only about nine million smart home devices shipped to the CEDIA channel in 2017 while there were about 110 million devices going through other channels, with retail accounting for about 70 percent in 2017.
Growth in New Home Builds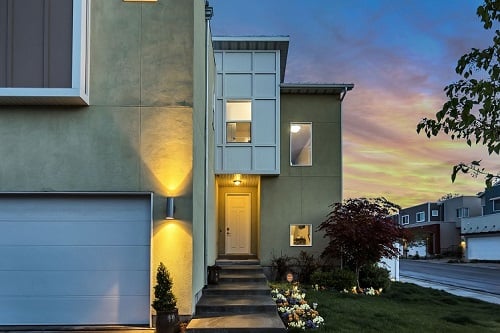 Smart home technology will likely find a place in new home builds, according to IHS Markit. Source: UnsplashWhile the market for smart home technology in real estate will be limited this year, IHS Markit forecasts this segment managing a compound annual growth rate (CAGR) of 44 percent from 2016 to 2021.
"We could see an upward revision to the CAGR forecast for builders because this channel is a great way to overcome technology education gaps and stress related to DIY projects for the consumer," Blake Kozak, principal analyst for smart home and security technology at IHS Markit tells Electronics360. "Moreover, with new construction, it is more likely to result in a positive user experience. First, the system will likely be installed by a professional. Next, light switches will be installed compared with light bulbs."
Kozak says this is important because many consumers don't understand that by turning off the light switch, the connected bulbs lose connectivity. Another benefit to having a builder install smart home tech is that a display will likely be installed in the home rather than relying on a mobile app in a DIY retrofit.
New home builds are more likely to see a greater concentration of the smart home inclusion because current smart home technology makes it difficult to transition accounts.
"For example, a new homeowner would need to find and add all connected to devices to their smart home user account and remove all devices from the previous homeowners' account," Kozak says. "Overall, smart home will likely have a bigger impact on new construction and apartments compared with impacting the sale of existing homes (at least for middle-class homes) over the next 2-3 years."
As a result, smart home devices shipping to builder channels is expected to increase by a factor of eight by 2021, which means the channel has potential but is just getting started with many projects remaining in pilot stage in 2018.
Coldwell Banker, one of the largest real estate firms in the U.S., saw the adoption of smart home technology grow by 33 percent in 2017. According to its recent Smart Home Marketplace Survey, Coldwell Banker tracked the most home automation devices desired by homebuyers being smart thermostats, smart fire detectors and smart carbon monoxide detectors. This was followed by smart cameras, smart locks and smart lighting.
"Five years ago, smart homes seemed like a far-fetched concept reserved for the elite, but now consumers can have multiple smart home devices installed for less than $500," says David Marine, Senior Vice President at Coldwell Banker Real Estate LLC.
Marine says the real estate firm found smart entertainment was the top product category that homeowners already owned and it was also the top category sought after by buyers planning to purchase smart products in 2018.
Apartment Living with Smart Home Technology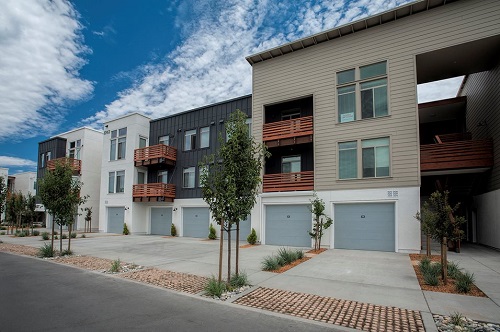 The Annadel apartment complex will include CASPER home automation from the ground up. Source: The Wolff CompanyIn a recent survey from Entrata, a real estate technology company, a majority of apartment renters were willing to see an increase in monthly rent payments in order to have more technology in their apartments. Furthermore, the survey found adding more technology options was a key opportunity for increased revenue in rent growth and renewal increases for property owners.
"While pools and other creative community features have often been seen as the draw for prospective residents, the survey shows that what residents really value upon move-in, and are willing to pay for, are technology add-ons and amenities," said Chase Harrington, president and chief operating officer at Entrata. "Shifting the focus of development, marketing and training efforts to these technologies is going to be key for apartments as residents begin to demand living in a smart, connected environment."
Entrata says it found that electronic payments and living in a secure, smart community was more valuable to apartment renters than a pool or covered parking. In the survey, the company found 75 percent of residents would pay more for a package of their top three smart home amenities — security cameras, keyless entry and smart thermostats.
Meanwhile, The Wolff Company's apartment development in Santa Rosa, Calif., called Annadel, is being built from the ground up with smart home technology.
The one-, two- and three-bedroom apartments will be equipped with CASPER smart home technology. CASPER is a company that specializes in bringing home automation to both residents and developers.
Annadel residents will be able to choose from three packages that integrate with mobile devices including voice assistants, intelligent awareness that allows residents to check in remotely inside their home, smart shades, smart lighting, multi-room music system, smart thermostats and a notification system alerting residents to guests' arrival. The apartments will also include connections for devices such as Amazon Alexa or the Apple Watch.
Vacation Properties and New Homes
Smart home attraction in real estate isn't just limited to new homes or apartment dwellings either as Rently Keyless, a smart home technology vendor that deals with property management companies, recently partnered with Property Management Inc. (PMI) to enable home automation in vacation rental properties.
The technology provided by Rently Keyless allows vacation rental managers to have keyless locks and electronic key codes for properties as well as devices such as smart thermostats. The integration of this technology will increase time of booking and automatically schedule the duration of the key code access. It will also help PMI home owners to reduce utility usage by 10 percent to 20 percent with the smart thermostats energy management.
Meanwhile, residents in Silver Spring, Maryland, also will be able to take advantage of smart home technology in the town's new community of Bradford Landing by Brookfield Residential Properties Inc.
In a collaboration with Amazon, the new build townhome properties will include voice-enabled automation through Amazon Alexa.
Coming Smart Home Tech to Real Estate
In Coldwell Banker's Smart Home Marketplace Survey, 77 percent of respondents see the benefit of using virtual reality and video to show homes as a selling or buying tool. The real estate vendor says the desire for virtual reality house tours is set to become as important as traditional video tours in terms of those considering a home purchase in the future.
Furthermore, respondents say they would like to have the ability to utilize VR to see how their current furniture would fit in a prospective home. Also, 62 percent of survey responders say they would more likely choose a real estate sale associate who offered VR house tour capabilities as a service for clients that potential buyers could view on their computer or smartphone over those that do not.
"It's revolutionizing the real estate industry, and we expect VR marketing to change how we buy and sell homes in the next five years," Coldwell Banker's Marine said. "VR tours give agents an edge in a competitive real estate market."