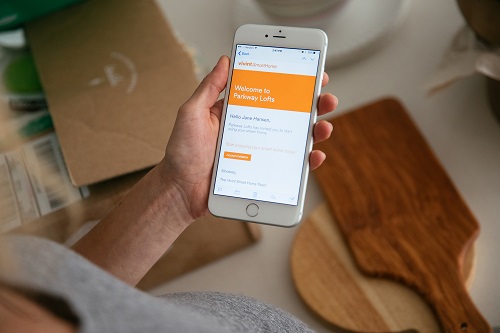 Vivint's Smart Properties program for rental property managers. Source: VivintVivint Smart Home has introduced a new program designed for rental properties to bring smart home technology as an amenity for residents.
Vivint says smart home technology allows rental property managers to lower costs in their home with more efficient property management. The Vivint Smart Properties program allows rentals and apartments to select from a suite of professionally installed smart home products for their units including smart locks, lights, doorbell cameras and thermostats.
Using an app, property managers can manage tenant service requests and vacant units from anywhere as well, as provide keyless entry for staff or contractors remotely. The program allows property managers to transfer control of a unit's smart home system once occupied and property managers can only access smart locks and cannot regain full access of the system until the unit is vacated.
"We anticipate smart home technology will rapidly become a staple for rental properties throughout the country," says Tom Few, vice president of business development at Vivint Smart Home.