Amazon logo: Everything from A to Z. Source: Amazon.com, public domain via Wikimedia Commons."Disruptive" innovation is the term given to business practices that break up the existing market by creating a new one. The term was coined in the mid-1990s, but examples can be found from long before. Take the Model T Ford, for instance. The first automobiles were a revolutionary innovation, but as an expensive luxury item they did not affect the existing marketplace. But when Ford's assembly line production for the Model T came along, the established market was totally displaced. When's the last time you saw an ad for horse-drawn carriages?

Amazon Echo. Source: Frmorrison / CC BY-SA 3.0Today, "disruptors" are identifying unexploited areas of the marketplace in almost every industry; CNBC even publishes an annual Top 50 list of disruptors (speaking of automobiles, Uber was No. 1 on their 2016 list; Lyft is No. 2 for 2017). But perhaps the biggest disruptor to come along in the past generation is Amazon.
Retail has been totally transformed by Amazon, of course. What started in 1995 as an online book retailer had a curious business model: No physical stores. All transactions online. Purchases delivered directly to customer homes. Those things might not have appealed to the book-buying, latte-sipping public had it not been for the fact that Amazon's limited overhead made it possible for the company to offer steep discounts on major titles, which it could buy at wholesale. It wasn't unusual in those days to see someone taking note of a book that caught their eye in a bookstore, only to order it later on Amazon for less.
Beyond that, Amazon's relationship with Ingram, a major book distributor, allowed customers to have access to a seemingly-limitless catalog of titles that weren't hidden behind the screen of the Info Desk at the local Barnes & Noble. One might have some luck with that approach, but only if they could stand to wait in line behind countless other customers looking for obscure titles.
Amazon did away with all of that. Fast forward a few years, and the offerings began to diversify: Downloads and streaming of video, music and audiobooks. Electronics. Toys. Clothing. Furniture, for heaven's sake. The "world's largest bookstore" was on the way to becoming something far larger, and in the process displacing long-standing retail brands and making the independent store model an even riskier proposition than chains like Walmart had already begun to do.
But perhaps Amazon's biggest disruption came in the form of transformation to the customer mindset. The eventual ability to search for and order just about anything you could imagine with a few clicks on a smartphone — technology that didn't even exist when the company started — put an unprecedented sense of power directly into customers' hands. As a result, there are new expectations that customers tend to have of any retail business, such as online access to a wide catalog of items, options for free shipping, a willingness to accept returns merely on the grounds that the product isn't to the customer's liking — and more.
In the wake of this transformation, many brick-and-mortar businesses unable (or unwilling) to adapt have reduced their ranks or closed their doors altogether, while others have struggled to keep up with shifting customer expectations. Meanwhile, Amazon has only continued to expand its reach. By revenue, this company that initially took six years to turn a profit is now the largest internet company in the world. And the brick-and-mortar territory is no longer foreign ground to Amazon, which in 2017 acquired supermarket chain Whole Foods Market. Its subsidiaries include several once-independent ventures that now quietly reside under the Amazon umbrella, including audiobook producer Audible.com, virtual book group site Goodreads, online shoe and clothing shop Zappos.com and more. Its consumer electronics, from the first Kindle to the latest Echo and set of Alexa tasks, have made their way into our lives and changed not only the way we shop, but the way we read, the way we interact with our homes, the way we live.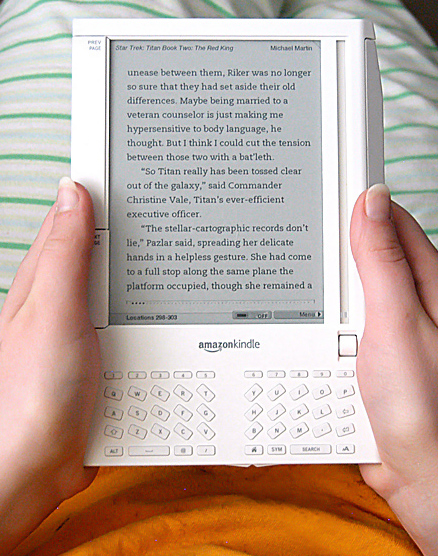 Original Amazon Kindle. Source: Tsgreer
Not surprising, then, that Amazon's current vision statement is to "build the Earth's most customer-centric company." Of course, not everything that Amazon has done in its 20-plus years in business has necessarily been in the direct interest of customers. From reports of poor warehouse conditions and anti-unionization efforts to allegations of promoting in-app purchases to children that could be transacted without parental consent, Amazon has had its share of controversy. At the same time, however, the company's platform offers opportunities for startup authors to publish their books, makers to sell their products and small businesses to grow through its cloud-based web services. It invests in a variety of community building and charitable relief efforts. And it aims toward sustainability in its use of renewable energy, responsible sourcing and even its own packaging — which, since 2000, has featured a logo with a smile-shaped arrow leading from the "A" to the "Z" of the company's name: a subtle nod to the notion that this is a company that carries, literally, everything.
Talk about a disruptor.