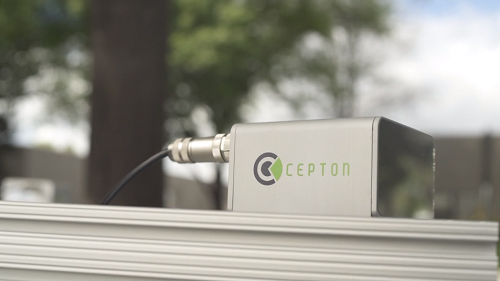 The Vista LiDAR device. Source: CeptonCepton Technologies Inc. has introduced a new light detection and ranging (LiDAR) product targeted for next-generation autonomous vehicles.
The LiDAR technology is a 120-line scanner that delivers 200 meters of range and 0.2 degrees of spatial resolution while being significantly smaller than other solutions on the market, Cepton says. The LiDAR also uses less than 10 watts of power.
The Vista LiDAR technology uses Cepton's micro-motion technology (MMT) platform and has no rotational or frictional parts, consisting only of automotive components for expedited automotive grade certification. Cepton is leveraging the Nvidia DRIVE platform for advanced processing of LiDAR data. The AI supercomputer combines deep learning and sensor fusion to paint a full, 360 degree environment for dynamic and static objects encompassing the vehicle.
The Vista LiDAR samples are available now for Cepton's automotive partners to evaluate in self-driving fleets with production slated for second quarter of this year.