Cepton Technologies Inc., a provider of 3D lidar solutions for automotive, industrial and mapping applications, unveiled its Vista lidar sensor at the annual NVIDIA GPU Technology Conference held in Silicon Valley, California, during March 26-29, 2018.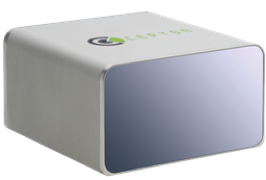 Source: Cepton Technologies, IncThe Vista lidar sensor delivers best-in-class performance to the automotive market when compared to current lidar technologies. The 120-line-equivalent scanner delivers 200 meters of range and 0.2 degrees of spatial resolution. The Vista lidar is significantly smaller than most commercially available solutions and uses fewer than 10 watts of power. This allows automakers to seamlessly integrate lidar technology into the vehicle body.
The Vista sensor is the fourth lidar product developed by the fast paced Cepton team over its first 20 months in operation. Built on Cepton's patented micro-motion technology (MMT) platform, Vista has no rotational or frictional parts, consisting only of high maturity automotive components for expedited automotive grade certification. Vista lidar samples are available today for Cepton's automotive partners to evaluate in their self-driving fleets. Automated volume production will start in second quarter of this year.
In collaboration with NVIDIA, Cepton leverages the NVIDIA Drive platform for advanced processing of lidar data. This AI supercomputer combines deep learning and sensor fusion to accurately paint a full, 360-degree environment representing dynamic and static objects encompassing the vehicle.