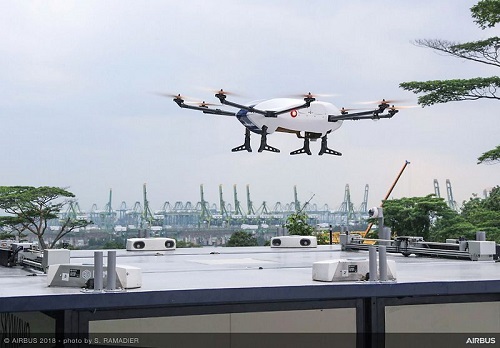 The drone used in the Skyways project at the NUS campus. Source: AirbusThe Skyways unmanned air vehicle from Airbus has completed its first flight demonstration at the National University of Singapore (NUS).
The drone is the latest in the testing of how the vehicles could be used for delivery of goods, medicine or other cargo around the world.
Airbus' drone was loaded with a parcel after taking off from its maintenance center and then took off again and returned to land, demonstrating its automatic unloading capability.
The flight follows the launch of the experimental project with the Civil Aviation Authority of Singapore (CAAS) about two years ago to develop an urban unmanned air system to address the safety, efficiency and sustainability of air delivery business in cities such as Singapore.
Skyways involves systems and structures that allow drones to land, dock with secure structures, discharge or take on payloads and then fly off to other destinations. The demonstration paves the way for local trials of delivery service to launch in the coming months, Airbus says.
The trials taking place at the NUS campus will result in campus students and staff being able to use Skyways to have small parcels between 2-4 kg delivered to designated parcel stations within the campus — about the size of 150 football fields.
Skyways is just one part of a number of projects being conducted by Airbus as part of its Urban Air Mobility initiative aimed at developing a safe and economically viable aerial unmanned parcel delivery system for use in dense urban environments. Other projects include the Racer high-speed helicopter demonstrator, Airbus' Vahana air taxi service and CityAirbus, a multinational project to produce an electrically-powered VTOL aircraft as a taxi service to avoid ground congestion.
The Airbus testing is just one of a number of projects that are underway to further delivery of parcels and goods using drones. Other projects have cropped up quickly in the past 12 months, including Matternet's Swiss delivery drone system for medical supplies, a food delivery service in Iceland from Flytrex and AHA, medical delivery via drone in Tanzania from Zipline, parcel delivery by ZTO Express in China, beverage delivery at Estonia public beaches by Cleveron and even hot dog delivery by an Oscar Mayer Wienerdrone.