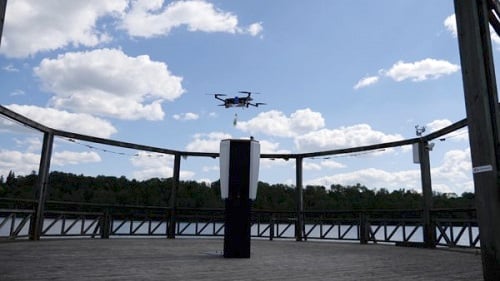 Drone deposit drinks into a cylindrical container for added safety to customers. Source: CleveronDrone delivery is becoming a new way to deliver goods to homes and businesses. It is a way to better serve the public and reduces costs to delivery companies.
But drone delivery is not just for goods to the home and businesses. Estonia-based Cleveron has opened what it claims to be the fastest public drone delivery service, with delivery times of less than five minutes.
Cleveron says the drone delivery service opened for two weeks at a public beach in Viljandi, Estonia where customers can order a drink via a text message. The drinks are then deployed from the other side of a lake via a drone and placed in a container for pickup.
The container is called CleverNest, which allows for safe parcel drop-off at the height of two meters, removing the danger of the drone hitting someone when landing on the ground or hitting someone with the parcel when dropping from far away. Cleveron's drone deposits the drinks or parcel in a cylindrically shaped container where users can retrieve the item easily.
The drones used are autonomous and the flight route is pre-programmed to ensure the drone doesn't get lost during flight, Cleveron says.
The company says the trial delivery project shows the future of last-mile delivery and potentially the future of e-commerce. Cleveron believes drone delivery will reduce last mile shipping times, enable deliveries to be made closer to the customer and delivers parcels and goods faster than current methods.