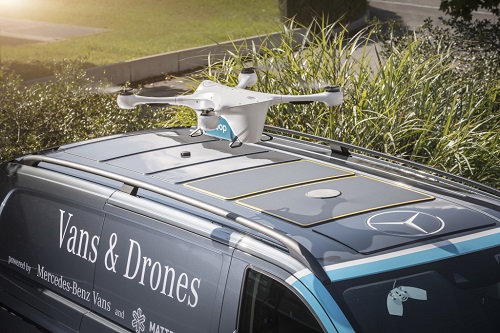 Drones will land on vans at four different stopping points in Zurich, then packages will be delivered by van driver. Source: Mercedes-BenzJust last week, Matternet began a new autonomous delivery drone service in Switzerland to carry medical supplies between hospitals. Now the drone maker is working with Daimler's Mercedes-Benz Vans and Swiss online marketplace siroop on a pilot project in Zurich to test a van and drone-based system for on-demand delivery of e-commerce goods.
The first trials started this week and the companies claim it is the first time that beyond-line-of-sight drone operations with the use of vans as landing platforms has been tested in a major urban area for fully automated e-commerce network.
The pilot project will last three weeks with customers being able to order selected products from siroop that are suitable for transport by a Matternet drone. These items include consumer electronics and other e-commerce items weighing up to two kilograms.
The drones are loaded directly at the merchant and then flown to two Mercedes-Benz Vito vans equipped with a precision landing technology. Deliveries are made the same day and the van stops at one of four pre-determined points within Zurich, where a van driver takes possession and delivers it to customers. The drone then returns to the retailer.
The landing technology is installed on the van roofs that turn into safe landing platforms for Matternet drone deliveries. The drones will run for seven hours per day, five days a week in favorable weather conditions and will not use the same airspace used by helicopter operators and other uses of the lower part of the airspace.
The companies say the goal of the project is to improve the time and service level with on-demand delivery as well as create value-added for retailers and consumers. Another goal is to improve the logistics chain with zero change in consumer behavior. Customers will still get packages from a van driver and order products in the same way they do today. At the same time, the delivery cycle will be reduced and packages delivered faster, the companies say.
"The pilot project in collaboration with Matternet and siroop affords us the possibility to test our concept in real-life on-demand deliveries," said Stefan Maurer, head of future transportation at Mercedes-Benz Vans. "We want to gain valuable insights for this and further concepts enabled through van and drone technology. We have the great opportunity here to conduct the most extensive testing in an urban environment to date. Validating our concept together with customers and project partners in an early phase will greatly advance the development. We are demonstrating what a practical system comprising drones and vans may look like."
Mercedes-Benz says this pilot project is the first step toward van fleets being synchronized with drone fleets for on-demand delivery with a low energy footprint and impact of congestion. The company envisions drones carrying products will be integrated into conventional delivery routes, that way vans won't be required to drive to a small number of fixed points to receive a drone. Instead, they will be supplied by a drone along their regular routes at suitable stopping points, allowing for urgent shipments to be included in existing delivery runs.