Pilot Labs brings fighting robots to a new level with the introduction of the Moorebot Zeus Battle Robot. The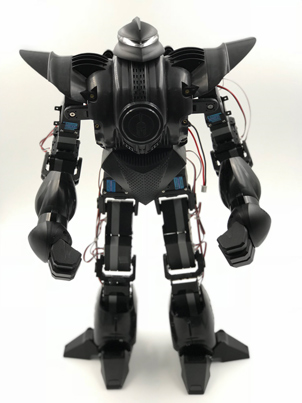 Source: Pilot Labsrobot will be demonstrated at CES 2018 during January 9-12 in Las Vegas at Booth 64716 in the new South Plaza (Design & Source Marketplace) located behind the Renaissance Las Vegas Hotel.
Approximately 14 in. high and weighing in at 2.2 kg, the new Moorebot Zeus robot is a fighter specifically designed for battle competition. The standard configuration includes 22 servo motors with up to 25 kg punch force each, with up to 32 motors for the next advanced version. All servo motors are metal-geared for durability in battle and to sustain heavy forces. The punch speed can reach up to 150 m/sec and the battery supports up to 50 minutes of continuous fighting.
The product comes with many standard movements, with an additional graphical programming tool for users to customize more movements. A library of mechanical design files is available for users who want to customize the robot armor by 3D printing with unique colors, shapes and designs.
The current version uses a manual wireless controller but future versions will be more autonomous and feature built-in intelligence, computer vision and even Alexa or other voice control.
Designed for serious gamers and robot fighting enthusiasts, the retail price for the 14 kg punch force version will be about $1,600 USD.