Silas Adekunle grew up with a lot of interests. Born in Nigeria and then later relocated to the U.K., Adekunle was keen on engineering, anime and gaming. When it came time to choose a career path, instead of veering in one direction or another, he decided to combine all three and add robotics to the mix when he founded Reach Robotics.
Backed by companies such as Qualcomm, Hardware Club, Techstars and more, Reach Robotics has taken the wraps off its first incarnation of products in a platform it calls MekaMon. Mekamon combines real-world fighting robots with virtual worlds through the use of augmented reality (AR).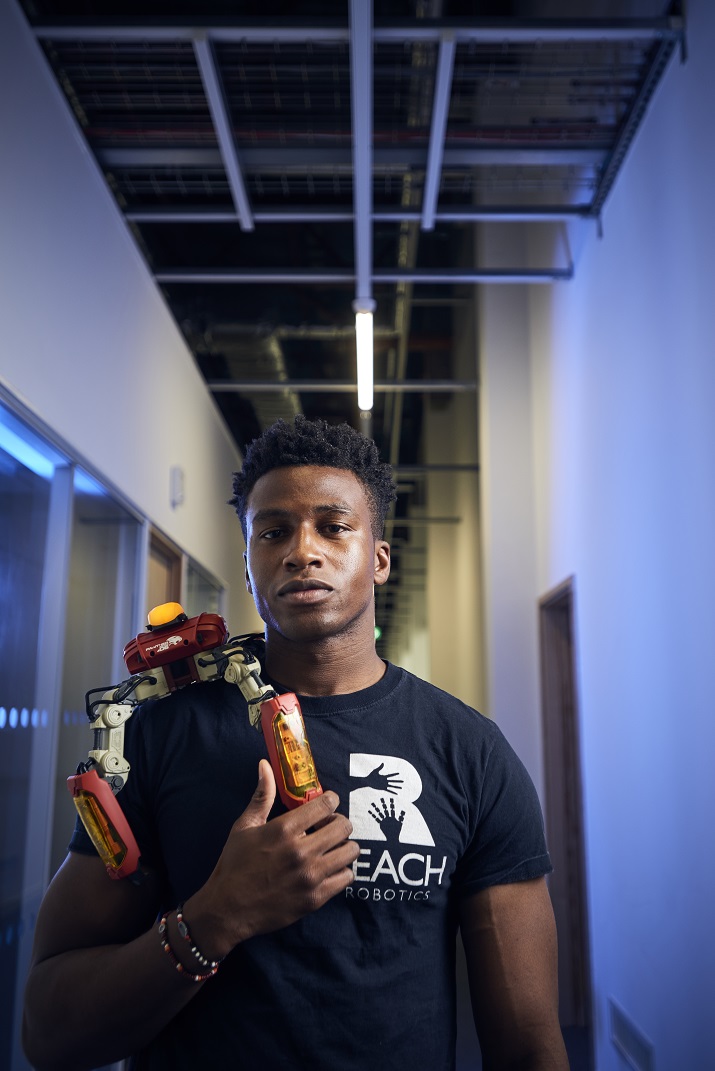 Founder and CEO of Reach Robotics Silas Adekunle While Pokemon Go received numerous headlines for being one of the first mainstream uses of AR, it was limited in that the battles and other actions took place exclusively on-screen. Here, Reach Robotics is offering a platform that combines both physical and virtual gameplay in real-time with customizable and fully controllable robots with the use of a smartphone or tablet PC, where consumers can either fight each other or virtual aliens and other bots.
"When Big Hero 6 and Pokemon Go were introduced to the market and validated as something people wanted, it proved that we were on the right track," Adekunle tells IEEE Electronics 360. "Now what we are doing is something that transcends those games that were solely based in a virtual world and brings dedicated hardware to the table."
MekaMon's robots react to the battle as it happens. If damage occurs in AR, the robot reacts accordingly. For example, if a leg is taken out, the robot's ability to move is sharply affected. Adekunle says Reach Robotics worked on making the robots have very realistic motion, so it appears as if the battles are indeed happening in real-time.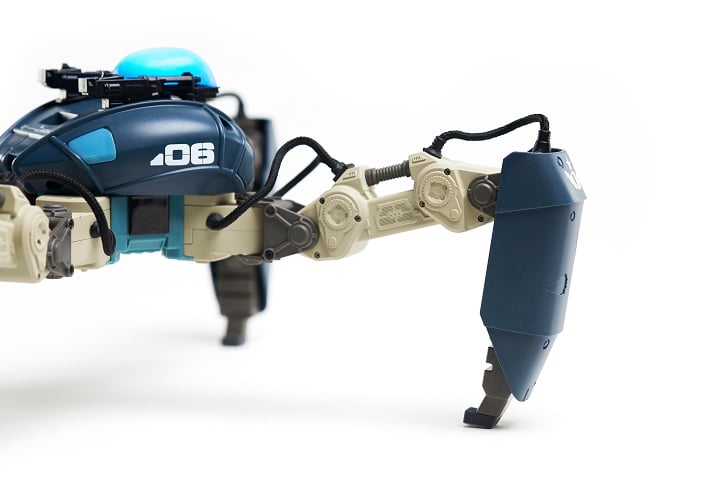 One of the MekaMon robots that can fight either other robots or can be used to fight virtual opponents via the smartphone application. Source: Reach Robotics Reach Robotics has gone through 27 iterations over the past three years to develop the robots and AR technology. The robots include three degrees of freedom per leg for movement, customizable physical accessories that all give added bonuses to the robots, an infrared tracking system for gameplay and a battle life of one hour per charge.
"I grew up working with learning about electronics and robotics using STEM," Adekunle says. "I want to pass that along to a new generation with a goal to inspire them and educate them, but we needed an entertainment angle to get there."
Adekunle says they are working on other ways the robots could be customizable, including the possibility of using 3-D printing; but first they need to make sure the robots will not break and the customization process is not a difficult one before that leap is made.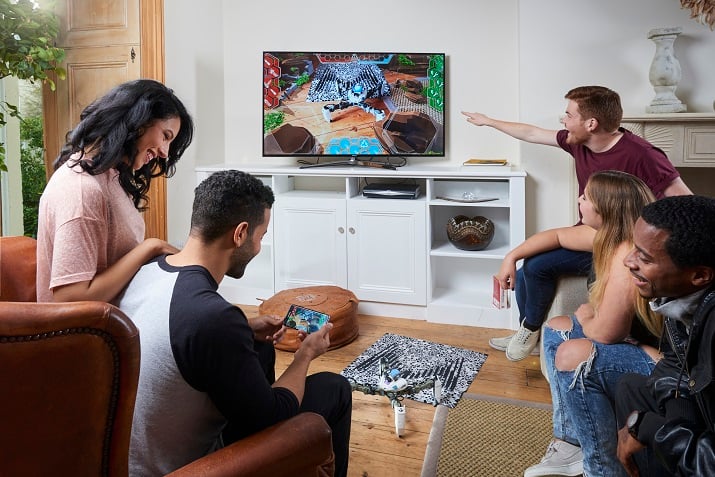 MekaMon allows the augmented reality to be casted to televisions or other platforms, so others can see the action. Source: Reach Robotics The AR that Reach Robotics has developed is made available through a smartphone application that functions as the gateway for gameplay. It has the ability to be casted to a television or computer monitor to encourage others to watch as the battles take place. The AR allows users to perform single-player missions and learn how to strike, evade and master the robotic controls while the robot moves to the controls in reality.
As experience is gained, the robots level up with new capabilities and weapons, such as boosts to health or other augmented abilities that are seen digitally, adding a layer of depth and strategy to upgrade choices and inventory, Reach Robotics says.
Mekamon's starting price is $329 and the company is taking orders now with a shipping date scheduled for January 2017. Learn more about the battle bots by visiting: www.mekamon.com