Earlier this year, Festo unveiled its BionicWheelBot that is a robot inspired by real-life spiders that can transform into a spinning wheel and do a somersault in order to show a larger range of motion in robotics.
Now, Festo is showing off its latest robotic project called BionicFinWave, a robot that features undulating fin movements that mimic animals such as the polyclad or the cuttlefish. The underwater robot maneuvers itself autonomously through a system of acrylic glass tubing and is designed to provide impulses for future work with autonomous robots in the process industry.
Festo said the BionicFinWave robot is designed to test new drive technologies for use in fluid media. The robot could eventually be developed to complete tasks such as inspection, measurements or data acquisition or other areas of the process industry. The project could also be used for methods in the manufacturing of soft robotic components.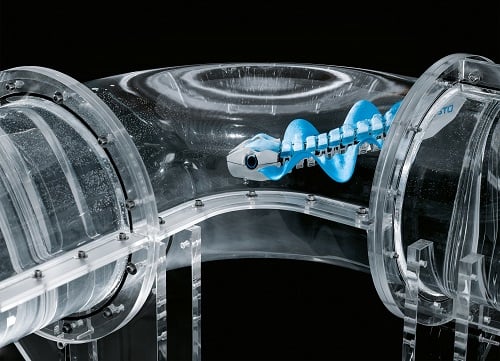 The robotic fish can communicate with the outside world via radio to transmit temperature or pressure sensor readings. Source: FestoPolyclad and cuttlefish have fins that extend from the head to the tail. When moving through water, the fish use their fins to generate a continuous wave that progresses along the entire length of their bodies. This undulation forces the water backwards for forward thrust. The BionicFinWave uses this same principle to move forward and backward, Festo said.
The fin drive unit is particularly suitable for slow, precise motion and causes less turbulence in the water than a conventional screw propulsion drive, Festo said. When it is in a tube system, the autonomous underwater robot can communicate with the outside world via radio and transmit data, such as temperature and pressure sensor readings, to a tablet.
How They Made It
The two lateral fins of the 370-mm long BionicFinWave are moulded entirely from silicone with reinforcement struts and other supporting elements. The fins are flexible and can mimic the gently flowing movements of the cuttlefish. To carry out each movement, the two fins are attached to nine small lever arms with a deflection angle of 45 degrees, which are driven by two servo motors housed within the body of the robot.
Two flat crankshafts transmit the forces of the arms so that the fins can move independently of each other allowing the robot to generate different wave patterns simultaneously. The BionicFinWave robot moves up or down by bending its body in the desired direction. The crankshafts are flexible, universal joints that are located between the lever segments with the joints and piston rod made via 3D printing.
The other body elements are also 3D printed and function as floats with waterproof cavities that offer a safe location for the entire control and regulation technology in a small space. A pressure sensor and ultrasound sensor register the distance to the walls and its depth in the water to prevent collision.