OmniVision Technologies, Inc. has announced the latest addition to the company's PureCel® image sensor line, the OV2732. Due to the OV2732 sensor's power efficiency and small dimension, OmniVision considers it to be well suited for compact and ultra-low-power surveillance devices. According to the company, the image sensor meets the needs of both residential and commercial monitoring systems by using staggered double-exposure high dynamic range technology to produce clear images and video, even when recording in high- or low-light environments. It offers high light sensitivity of 1900 mV/lux-sec.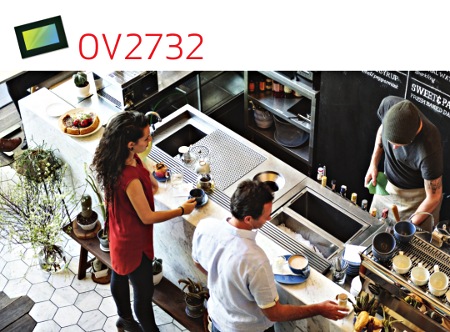 Designed for IoT-based residential and commercial monitoring systems, OmniVision Technologies' OV2732 features a compact 1/4-inch optical format, full 1080p HD resolution, and low power consumption that together suit it for battery-powered security-camera applications. Image source: OmniVision Technologies, Inc. Hallmark features of the OV2732 image sensor include frame synchronization for use in multi-camera or 360-degree camera systems. It supports ultra-low power mode and an ambient light sensor, helping to extend operating times between battery replacement or recharge in battery-powered security applications.
The OV2732 sensor captures full 1080p HD video at 60 frames per second (FPS) and 720p HD video at 90 FPS. It can also acquire VGA resolution video at 120 FPS.
Currently available for sampling, the OV2732 image sensor is expected to be in volume production in the first quarter of 2017.