The ability to wear a battery would bring true portability to smartphone, medical implant or even electric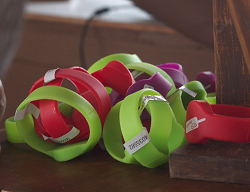 Source: Brunel University Londonvehicle charging. Researchers at Brunel University London have brought prospects for this convenience closer by 3D-printing an affordable, flexible and wearable battery.
The team used a printer to deposit layers of silicone, glue and gel electrolyte paste to form a clear wristband that incorporates a supercapacitor. The method eliminates the use of expensive 3D laser selective melting machines used in other attempts to produce flexible supercapacitors.
"This is the first time a flexible supercapacitor including all its components has been produced by 3D printing," said Milad Areir at Brunel's Cleaner Electronics Research Group. "The most popular way to produce them is screen printing, but with that you can't print the frame of the supercapacitor on silicone."
The new wristband can be fabricated with inexpensive, off-the-shelf components and products instead of high-cost metals and semiconductors. The devices also withstand stress tests without losing power.
A simple open-source printer connected by USB to a syringe driver with a stopper motor can print the paste layers, with only three or four syringes based on the size of the supercapacitator. The wristbands are printed in a honeycomb pattern, which means less material needs printing, so they are quicker to make. But designers can also experiment with different complex shapes.
"In future it can be used for mobile phones," said Milad. "For example, if the phone battery is dead, you could plug the phone into the supercapacitator wristband and it could act as a booster pack, providing enough power to get to the next charging point."