Flexible computer screens, stretchable electronic devices and soft robotics are a major focus of many researchers in the field. These electronics have come a long way from the idea phase, and the latest challenge researchers are focused on is mass producing them. Researchers from Oregon State University's College of Engineering have taken a step toward the successful fast manufacturing of these soft and flexible electronics.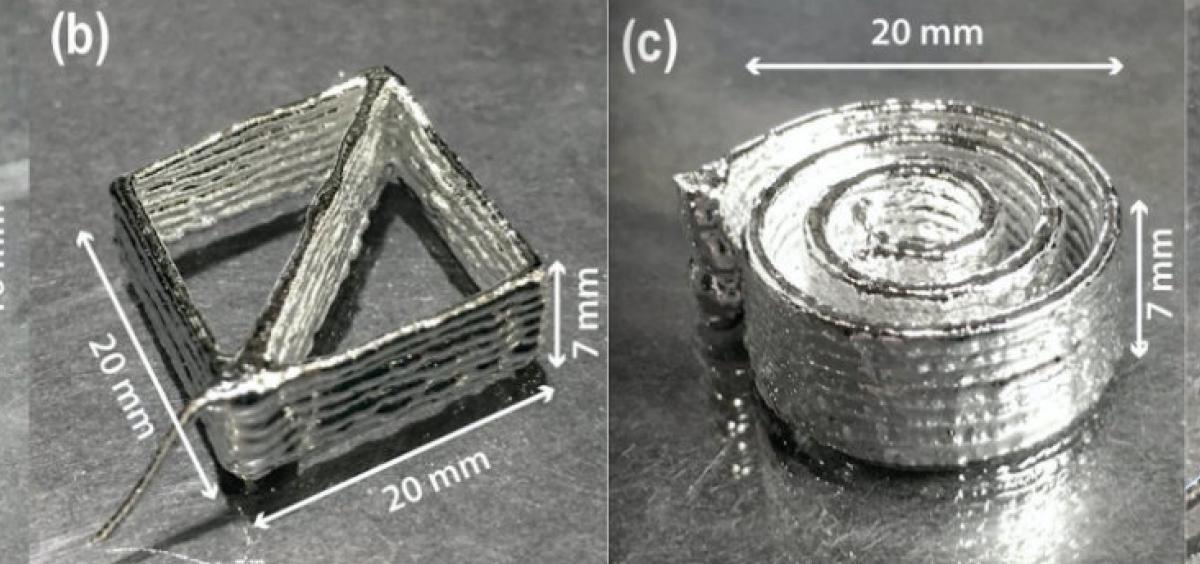 The 3D printed flexible electronics used this method (Source: Dogan Yirmibesoglu)
The team from the college's Collaborative Robotics and Intelligent Systems Institute has developed a method that uses 3D printing to print tall structures using gallium alloy. Gallium alloy is highly conductive, making it the perfect material for flexible computers, stretchable electronics and soft robotics. The research team added nickel nanoparticles into the liquid metal (galinstan) which created a paste that was usable in additive manufacturing.
"The runny alloy was impossible to layer into tall structures," said Yiit Mengüç, assistant professor of mechanical engineering and co-corresponding author on the study. "With the paste-like texture, it can be layered while maintaining its capacity to flow and to stretch inside of rubber tubes. We demonstrated the potential of our discovery by 3D printing a very stretchy two-layered circuit whose layers weave in and out of each other without touching."
Gallium alloys have been used in the past for flexible electronics. They have low toxicity and high conductivity while staying cheap. They also have the ability to "self-heal."
Before this new development, the alloys could only be printed in 2D. The new modification has taken advantage of sonication to mix the nickel particles and oxidized gallium into the liquid metal. This allows the alloys to be 3D printed.
"Liquid metal printing is integral to the flexible electronics field," said co-author Doan Yirmibeolu, a robotics Ph.D. student at OSU. "Additive manufacturing enables fast fabrication of intricate designs and circuitry."
This can be used for so many products from electrically conductive textiles, bendable displays, sensors for torque, pressure and other strains, wearable sensor suits, antennae and biomedical sensors.
The gallium alloy paste has many features that are completely new to flexible electronics.
"It can be made easily and quickly," Uranbileg Daalkhaijav, Ph.D. candidate in chemical engineering, said. "The structural change is permanent, the electrical properties of the paste are comparable to pure liquid metal, and the paste retains self-healing characteristics."
The paper on this research was published in Advanced Materials Technologies.