After you have successfully printed your first 3D item, you may start to think about all the things you will be able to make with your 3D printer.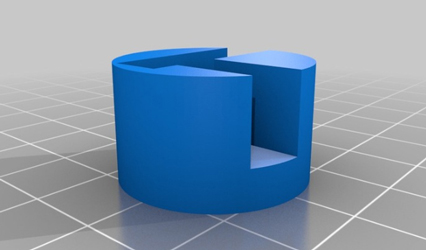 MakerBot Replicator Feet Upgrade. Image Courtesy: ThingiverseMany users have found that as they continue to use a 3D printer, the printer itself would benefit from some 3D additions. Here are three things you can make and add that will help you make better 3D prints:
1. Printer Feet
When a consumer-level 3D machine is printing, it vibrates as it prints. As Scott Hanselman mentions in a blog post covering his first 16 hours working with a 3D printer, the printer vibrates so much when it is printing that it sometimes "walks off the table," ruining the 3D item being printed. One way to keep the printer from gradually moving to the edge of a table is to print out feet for the bottom of the printer, and add rubber bases to the feet before gluing them in the corners of the bottom. Thingiverse has a pattern you can use to print the feet.
2. Filament Spool Spindle
Most consumer-level 3D printers use layers of plastic filament to create 3D objects.
ABS (acrylonitrile butadiene styrene) is the least expensive thermoplastic used in 3D printers. It melts at temperatures over 200˚C and should be used in a ventilated area, since it can create mild fumes when it is heated. It can be recycled, but it is not biodegradable. ABS can absorb moisture from the air and deteriorate with repeated exposure to sunlight. Both can affect the quality of the objects you are printing.
PLA (polylactic acid) is a biodegradable polymer that melts above 180˚C. It is made from renewable resources. It is important to remember that the pigments used to color PLA may not be biodegradable and may be toxic. PLA objects can take a long time to cool. They may be more brittle than object printed with ABS.
3D printers often do not have a spindle to hold the spool of plastic filament. Using a spindle helps maintain a uniform feed to the 3D printer. Thingiverse has several patterns for printer spindles.
3. Putting ScotchBlue tape on the printer platform
A 3D printer needs a flat surface to print on; and the surface of the platform on a 3D printer is made to be flat and smooth. When a 3D print is finished, it sometimes sticks to the platform surface and can come apart when it is pried off. Early adopters found that the solution was to cover the platform with 3M ScotchBlue painter's tape before they started printing. Several sheets of ScotchBlue cut to fit the printer's platform are now often packed in the box with a new 3D printer. When you have used those sheets up, you can use several strips of regular ScotchBlue tape to cover the platform (don't let the strips overlap), or buy more of the special sheets of ScotchBlue that fit the platform.
Things They Do not Tell You in the Manual
The quality of 3D prints from a consumer-level printer can be affected by temperature changes in your work area. When you make an object using ABS filament, drafts from your heating or cooling system can cause a 3D print to warp while it is being created. PLA is more tolerant of temperature changes than ABS.
In one of his first MakerBot videos on YouTube, "BusyBotz" showed how he enclosed his 3D printer with walls made from acrylic sheets on all four sides and an aluminum foil roof to keep warm air around the printing extruder. In a later video, he used acrylic sheets to make a box to enclose the printer and used a plastic storage box to create a top cover. The video is accompanied by a list of the materials needed and step-by-step instructions as well as the video demonstrating how he did it.
Another option to keep the printing area warm is to buy a Heated Bed attachment for your printer, which keeps the bottom of the object you are printing warm and flexible so it does not warp when it cools.
It is hard to keep documentation for operating consumer-level 3D printers up-to-date because the technology is changing so rapidly. The websites for some 3D printers offer instruction manuals in pdf form, or pack paper copies in the printer shipping box. The greatest resource for learning about 3D printing for the average user, however, is YouTube. The videos mentioned in this article are just a few examples of the many available on YouTube, which explain how to get around the difficulties most users face as they progress to making more complex objects with their own 3D printer.
To contact the author of this article, email engineering360editors@ihs.com