Yomee is an automatic yogurt maker that makes craft-quality yogurt, without preservatives, artificial flavors and added sugars, and it is cheaper than store-bought.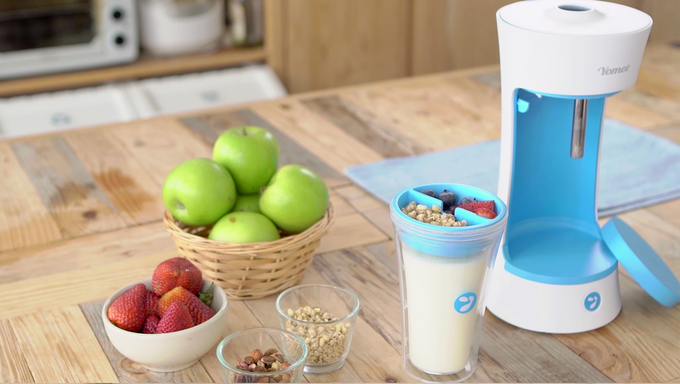 The Yomee Yogurt maker launched on Kickstarter. Source: Yomee
Yomee is a smart yogurt maker that automates and simplifies the yogurt creation process. Users can choose whatever flavors they want and decide what goes into it so there are no additives or artificial flavors.
The smart yogurt maker has three steps. First, pour in the milk, then drop in a Yomee pod. And finally, users select the yogurt type and turn the machine on — 6 hours later the yogurt is ready, and each pod makes 2 servings.
Yomee yogurt is created in a double-wall insulated cup that keeps the yogurt fresh. The cup comes with a travel lid so it is easy to take on the go.
People who are lactose intolerant can use Yomee too. Yomee has non-dairy pods that work with any non-dairy kind of milk, like almond, coconut, soy or rice milk.
Yomee has a free app that works with iOS and Android. The app offers yogurt-based recipes and lets you select the yogurt style you want to make. The yogurt styles offered include Greek-style yogurt, plain yogurt or a smoothie style stirred yogurt. The app keeps users well informed about every stage of the yogurt making process and alerts users when the yogurt is heating, cooling, incubating and ready to eat.
This device allows users to control ingredients, sweetness and fat content. The app comes with a library of original recipes and provides accurate nutritional information for each yogurt dish.
The yogurt pods are 100 percent natural and completely soluble. Yomee is a zero waste product to stay green for the environment. They're good for 6 months and each pod creates 10 ounces, or 2 servings, of yogurt. When users run out of pods, they can order more from the Yomee app. A pack of 10 pods costs $9.90 and provides 20 servings of yogurt.
To create the yogurt, Yomee boils and stirs the milk for 15 minutes. Then Yomee cools the milk to 115 degrees Fahrenheit and after the milk is cooled, Yomee drops the culture-filled pod in and starts stirring. Then Yomee incubates the milk at a steady temperature for 6 hours and the live culture turns the milk into yogurt. When the milk turns into yogurt, Yomee will perfectly chill the yogurt to 50 degrees Fahrenheit, slowing down the culturing process and developing the flavors. The yogurt can remain chilled for up to 48 hours.
The Yomee Kickstarter launched in September 2017 and will end on November 2nd, 2017. Their original goal for the campaign was $28,000 and they currently have $39,958 pledged. To learn more about this smart yogurt maker, visit the Kickstarter page.