Just a few days after IKEA unveiled its concept for what it believes will be the future of autonomous vehicle commerce, Renault is offering its own vision of the future of last-mile delivery vehicles.
Enter the EZ-Pro, a robo-pod concept that is autonomous, electric and connected for numerous delivery types.
German-based Renault said that agile, last-mile delivery solutions represent one of the biggest opportunities for disruption in the professional delivery market, as e-commerce continues to expand and consumers expect immediate delivery. Autonomous vehicles offer a way to manage delivery costs while improving the time it takes to get goods into the hands of consumers.
The EZ-Pro concept consists of an autonomous leader pod and driverless robo-pods, but it will use a human concierge to supervise the deliveries as well as the fleet itself. The concierge will focus on value-added tasks such as supervising the itinerary planning and driverless pods, and ensuring services such as in-person delivery of groceries and fragile objects.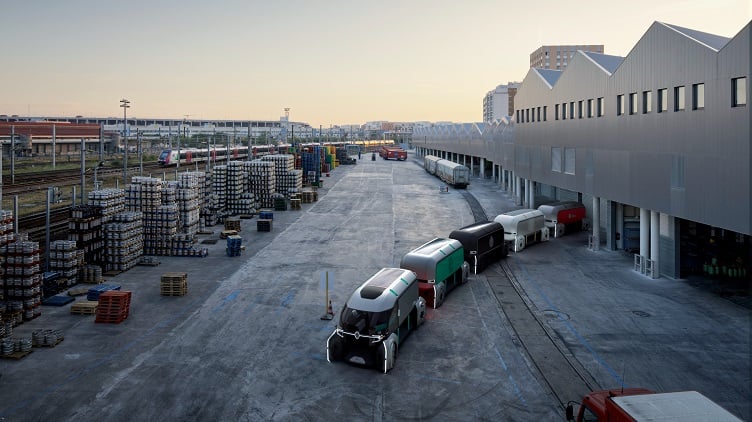 Fleets of robo-pods could be sent out from a logistics center from multiple e-commerce vendors. Source: RenaultThe fleet of robo-pods can follow each other by platooning or move independently, as each pod will be customizable for a variety of specific business customer needs. The pods will leave the same hub and are managed by the same logistics operator, but they can carry different types of goods and merchandise.
Delivery recipients can choose delivery times and locations and whether they wish to receive the parcel via the concierge or by accessing self-service lockers in the driverless robo-pods. The lockers can be opened by end users via a mobile app and will be available 24/7.
EZ-Pro is part of the company's goal to be 100% electric in the future, contributing to greener and quieter transportation systems.
Renault and IKEA are not alone in this concept. Kroger recently teamed with autonomous vehicle maker Nuro to begin a self-driving delivery van service. And earlier this year, startup Udelv successfully tested its own service in Burlingame, Calif. for a last-mile autonomous grocery delivery vehicle. These developments coupled with numerous delivery drone projects seem to be creating a cottage industry, even before the delivery solutions are commercially available.