Light-emitting diode (LED) lighting is being installed across the U.S. as a way to help reduce the cost of energy and in an effort by companies to reduce their carbon footprint. However it may have another added benefit in that the lights are helping milk taste better.
Researchers at Virginia Tech have found that certain types of light change the flavor profile of milk. Milk that comes straight from a dairy should taste sweet and rich, but that same milk exposed to fluorescent lighting has been described as tasting stale. Using newly installed LED lights has reduced these negative tastes, however, packaging needs to be developed to capitalize on these developments, researchers say.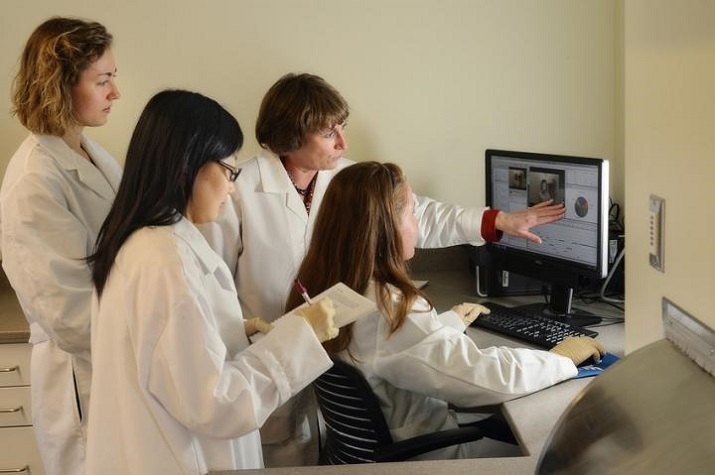 Professor Susan Duncan and Virginia Tech students examine research on the effect of LED lights on milk in display cases. Source: Virginia Tech "We want to help figure out ways to return to the fresh taste of milk that our grandparents experienced when it came straight from the dairy," says Susan Duncan, a professor of food science and technology in the Virginia Tech College of Agriculture and Life Sciences.
One of the goals of the researchers is to determine if the changing taste of milk in retail display cases has been one of the factors in the decline of milk consumption over the past several decades. If taste improves, would consumers be more willing to buy more milk?
Why Light Matters
When exposed to fluorescent lights, riboflavin, one of the nutrients in milk, oxidizes. This changes the taste of the milk, but it also can reduce the nutritional content as well. Virginia Tech found that when milk is stored in translucent plastic jugs, these reactions can take place in as little as two hours. Opaque milk packaging protects riboflavin and other nutrients from lighting.
Researchers found that when milk is exposed to LED lights, the taste was more satisfactory to consumers than milk exposed to traditional lighting. Through a combination of improved packaging and LED lighting, milk could be preserved to provide the best flavor possible. Researchers say that while improved packaging costs more than traditional jugs, the cost is worth it to improve consumer opinion on the taste of milk.
"The research that is being done around this new lighting gives us momentum to explore other ways that we can preserve the natural taste of milk," says Duncan.