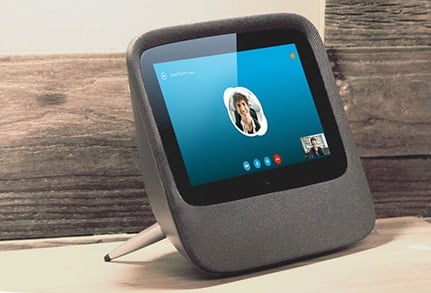 The Spark smart speaker. Source: Clazio
Clazio has introduced a new smart home device that users can control via touchscreen or through voice activation.
Spark is built with two high-quality speakers for clear, crisp sound that adapts to its surroundings and works with streaming services such as Pandora or Netflix. The device can be plugged into a TV or projector to be used as a home entertainment center with support for 4K output.
Clazio says Spark is similar to an Android tablet running Android 7.0 Nougat OS and comes with an octa-core processor. The smart speaker can be connected to other smart home devices to allow for control of the home from a single device. It also has a 5-megapixel front camera to capture photos or video calls. The system even works between a smartphone and laptop.
The voice activation is operated from two far-field microphones to receive built-in Alexa or OK Google voice commands or users can control functions through a single gesture or multi-touch gestures by touching the screen.
Spark weighs about 1.76 pounds and users can move it around the house without having to plug it in because of the 4,800-milliamp-hour battery that supports up to five hours of music or four hours of video before needing a recharge.
Clazio has launched an Indiegogo crowdfunding campaign in order to help bring the Spark to mass production. The initial price of the Spark is $269 but during the crowdfunding campaign, it is about $100 cheaper. To learn more about the campaign, visit its page on Indiegogo.