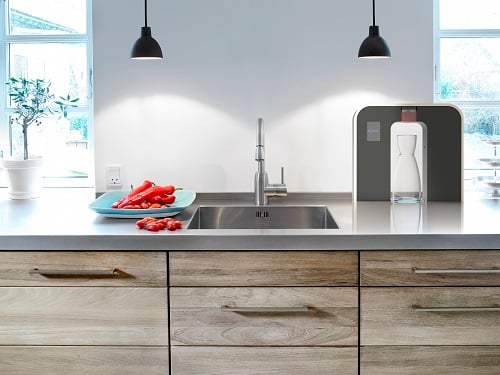 The rOcean is a water system that will help combat the dependency on plastic bottles. Source: rOceanAmericans consume more than 60 billion single-serve plastic water bottles each year. These bottles are not biodegradable and have a poor recycling rate, which results in a range of harmful effects on the ecosystem. Many of these bottles end up in the ocean leading to more than 8 tons of plastic being dumped a year.
To help combat the use of plastic bottles, rOcean has launched a new all-in-one water ecosystem that responds to both Google Home and Amazon Alexa in a system that includes advanced water filtration, carbonation and flavoring.
The rOcean One and rOcean zerO is an easy way for consumers to make water-based beverages at home without the need to purchase multiple pre-filled plastic bottles.
The system features a filter that lasts for more than 400 gallons, about a year's worth of usage, rOcean says. The CO2 systems lasts for about 50 liters and refills cost consumers about half as much as current solutions on the market. After buying the initial system, 10-pod refill packs allow consumers to make up to 500 drinks and cost about $25. The pods will be available for sale immediately when the rOcean devices ship this fall.
"Imagine a family of four. With the rOcean One solution, the machine pays for itself within a month or two in the case of a family," Sunjay Guleria, co-founder of rOcean, tells Electronics360. "Then all our refills, filters and CO2 replacements are collectively 10x cheaper than buying bottled water...and the environmental impact of removing single-use plastic is tremendous. As such, our aim is to get to 1 million machines sold as quickly as possible and hopefully start making a dent in this plastic water bottle epidemic."
The rOcean One features the filtration, carbonation and flavoring system while the rOcean zerO offers the same features as the One but is a pared down, compact version without filtration. The rOcean One is available now for preorder priced at $199 and the rOcean zerO is also available for preorder priced at $99.
The filtration system is able to remove lead, asbestos, cysts, chlorine, mercury and 70 other contaminants and the company claims the filters last 10 times longer than a Brita jug filter. The carbonation system can be used with any cup or reusable bottle from Swell to Klean Kanteen to Contigo to Old Voss or Smart Water bottles.
The system is linked to a user's tap and comes with an app that consumers can integrate with Amazon Alexa or Google Home to tell the system what drink they want and then it auto prepares it. The app also offers analytics for users to see how much money they save by not buying bottled water on daily, weekly, monthly and cumulative basis.
The company has launched an Indiegogo crowdfunding campaign to garner support for the device and accept pre-orders. It says it will begin shipping the systems in time for the holidays.
"Ultimately we're very much focused on helping people wean themselves off of bottled water, so the more people aware of our solution, the better...for them and for our oceans," Guleria says.
To learn more about the Indiegogo campaign, visit: https://www.indiegogo.com/project/preview/b7c6a139#/