One of the latest IndieGoGo campaigns is for cnct's new product, the intelliPLUG. intelliPLUG is a small, affordable, Wi-Fi enabled smart plug that lets you control any device that is plugged into it from an app on their smartphone. intelliPLUG has full iOS, Android and Amazon Echo functionality. These functionalities allow you to turn plugs on and off, set timers for devices and schedule plugs to turn on/off automatically. By connecting intelliPLUG to Amazon Echo, you can use your voice to control the devices connected to intelliPLUG. cnct is currently working on also integrating Google Assistant and HomeKit with intelliPLUG.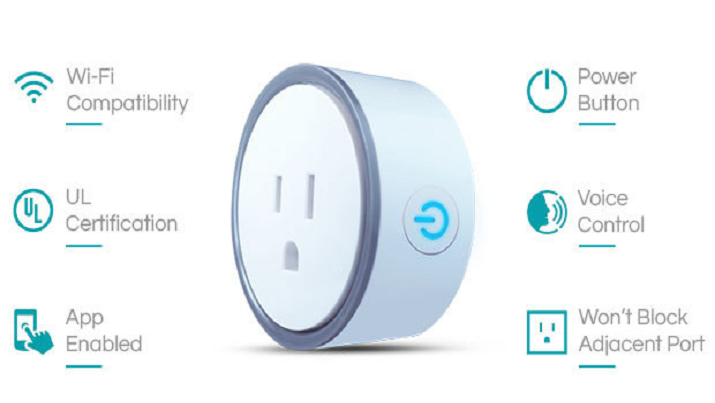 The intelliPLUG device. (Source: cnct)
You can control many devices with intelliPLUG. Through the app, you can turn your coffee pot on from your bed when you wake up, instead of having to preset a timer. You can turn off appliances you forgot about before leaving the house, like an iron. You can even turn on lights before you get home or to make it seem like someone is home to ward off intruders. Parents can even control TV or video game time for their kids. There are many uses for intelliPLUG.
Installing intelliPLUG only takes three steps. Plug intelliPLUG into an electrical outlet, download the app and pair the plug to the app. intelliPLUG is small, and won't block the other outlet. The measurements of intelliPLUG are 2.17-by-1.08-by-1.89 inches (or 55-by-27.5-by-48 millimeters for those on the metric system), weighing in at just 57 grams.
intelliPLUG lets everyone have a smart home without spending thousands of dollars. There are different of rewards on IndieGoGo depending on how much a person donates, ranging from $10 for one intelliPLUG and app download to $3,000 for an intelliPLUG Distributor Pack and app downloads. The cnct plans to start to shipping intelliPLUGs to backers in August 2017. The IndieGoGo campaign will be up until mid-July and you can view the page here.