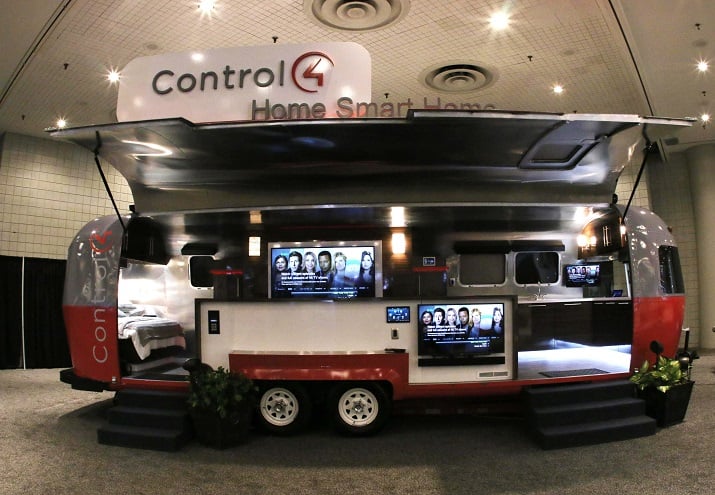 This vintage Airstream trailer has been outfitted with home automation including smart TV, smart lighting, smart blinds and more. Source: Control4Home automation is moving beyond the confines of an actual house and into a custom vintage Airstream trailer.
Control4 has grafted many of the same features found in the smart home such as high performance audio and 4K video entertainment, smart lighting and smart shades all powered by voice activation to the new trailer. The Airstream trailer is part of Control4's Smart Home Tour, which begin early this month and continues through April 23.
The goal of integrating smart home applications in an Airstream is to show that home automation can work for all homeowners regardless of budget or the size of a home or even in a single room. Control4 says a misconception in the smart home is that it only applies to those in the high-end of the market, however, its starter package that includes the ability to control a smart TV, lighting, locks and much more is priced at $600.
Control4's home automation works with more than 10,000 compatible devices including Amazon Alexa, which enables the voice command option inside the Airstream trailer as well as devices found inside the smart home.
The Airstream trailer on display includes a mere 400 square feet of living space but demonstrates how much technology can be packed into a tight space, Control4 says. Control4 also created a custom side lift to the trailer and installed a TV complete with outdoor audio, touchscreen display and a door station to showcase how the technology can also be utilized outside.