Cubiio, a small and compact laser engraver for home use, has launched on Kickstarter. Cubiio doesn't require any assembly and takes up very minimal space. Users can control it from the Cubiio app. It is a plug and play device.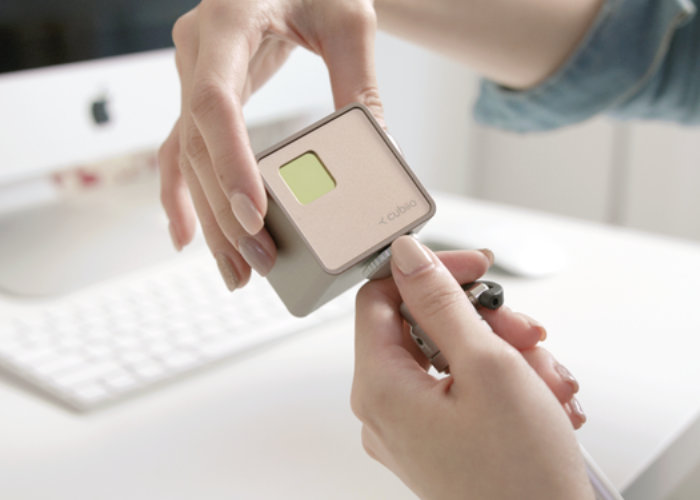 The Cubiio Laser Device (Cubiio)
To fire up Cubiio and laser engrave all of your belongings, open Cubiio, choose a photo or G-Code file or write something within the app that you want to engrave. Then place the item to be engraved in front of Cubiio, preview the engraving, align, press start and watch the laser create your work!
G-code is a common machine language that is converted from vector graphics. Cubiio recommends that users use a free open-source software called INKSCAPE, which can be used to design vector graphics and generate the user's G-Code files. Users run the G-Code files on Cubiio like other laser engravers.
Cubiio has two special functions, Preview and Batch. In preview mode, Cubiio projects a weaker laser to spot the target surface. During preview mode, it moves along the planned trajectory or boundary rectangle. Users can easily adjust size, position and rotation angle. When the laser is in the right spot, the user presses Engrave and the laser burns the design.
The batch mode is specially designed for studios to produce laser-engraved products continuously. Users can easily repeat the design on multiple products or move to the next file.
Since laser engraving can be dangerous for users, Cubiio incorporated safety measures into the device. Cubiio comes with goggles in every package; users are instructed to wear goggles while Cubiio is working. It also has password lock. The user must enter a password before every operation, and only authorized people are allowed to use Cubiio. It also has a lasering indicator, a bright LED indicating when the laser is energized and operating. Cubiio is equipped with a sensitive 3-axis accelerometer that shuts the device off immediately when it detects accidental movement during operation. Cubiio also has overheat shut down, so if the device's inner temperature gets too hot, it will shut off immediately.
Cubiio consists of a semiconductor laser source and has two current-driven mirrors to deflect the laser beam along X and Y axes. The embedded CPU translates your sketches into digital commands to tilt the mirrors. The focused laser spot will be projected to target surface along the designed trajectory.
Cubiio is 50 mm x 50 mm x 50 mm. It's working distance is 150-160 mm and working area reaches 100 x 100 mm. Cubiio has a laser indicator, touch switch, micro SD, micro USB and a laser outlet. Cubiio weighs 150 grams. The routing speed is 2000 mm/min max. It comes in red, black, dark bronze, gold and blue.
Cubiio has $324,409 of its $25,000 goal and has 33 days left of the Kickstarter campaign. The Cubiios will ship to backers in November 2017 after the Kickstarter has ended.