Industrial Electronics
Everything You Need to Know About Laser Engraving and Cutting Wood
27 September 2017
Sponsored content
CO2 laser engraving/cutting systems work with a variety of materials – acrylic, textiles, natural stone, etc. Wood, however, is probably one the most popular engraving mediums in the industry today. From customized gifts to engraving a company logo on a product, there are so many things you can do with a laser. But before you fire up your engraver, there are a few considerations to take into account before engraving wood.
Before you even turn on your laser, consider the type of wood you will be engraving. CO2 laser systems can engrave on nearly any type of wood. Some of the more common woods include maple, cherry, birch ply, alder, bamboo, and walnut. All of these types engrave differently and will result in different looks – maple and cherry provide a nice contrast when laser engraved, while walnut is very dark. Bamboo is a very popular wood for engraving, but due to the grain pattern, can result in an inconsistent contrast.
The wood you choose mostly depends on the item being engraved. For example, an oak barrel is going to engrave differently than a bamboo cutting board.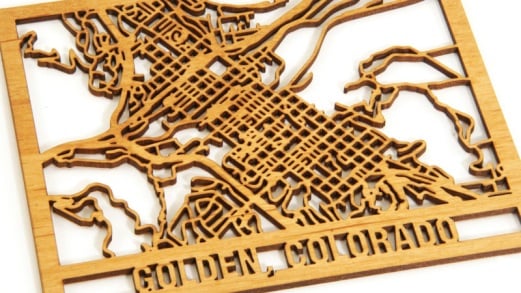 Figure 1. A laser cut map of Golden, Colo. Source: Epilog Laser Because of its versatility and durability, wood is an exceptionally popular engraving substrate.
Customizing photo frames with names, phrases or dates; creating inlays for cabinets and plaques; personalizing cutting boards, jewelry boxes, and humidors – the applications are seemingly endless. Since Epilog Laser systems both engrave and cut, you can also tackle prototyping jobs or custom cutting projects like this laser-cut map. Personalized gifts are one of the biggest applications for laser engraving wood (among other mediums). You can laser engrave skate decks, phone cases, musical instruments, and many other wood items. Laser customization increases perceived value, and is very much in high demand. Lasers also allow operators to easily brand their creations by quickly engraving a logo in an inconspicuous spot on a gift.
Epilog shares several examples of laser-cut wood projects on their website, such as this wood veneer inlay box. There's also a tutorial for laser-engraving a bamboo cutting board. These creations represent some of the most popular uses for laser engraving with wood. Users can download the designs of these projects directly from Epilog's site, where step-by-step instructions lead users through the entire tutorial.
Epilog Laser systems are easy to use. By following these simple steps, you'll be well on your way to successfully laser engraving wood projects:
1. Create your graphic in any Windows-based graphic design software. The most popular in the industry is CorelDRAW, but nearly any vector-based software will do.
2. Send the design to print in the laser. Make sure that your print settings match the material you are using.
3. Load the material that you are engraving into the laser machine and send the job to the laser.
4. Watch your creation print right before your eyes!
Laser engraving with wood is both remarkably easy and impressive. Keeping these simple steps in mind, you'll be well on your way to producing your own unique laser-engraved wood creation!
Find Free Electronics Datasheets