Two engineers have developed a cost-saving, robust alternative to the expensive conductivity probes used to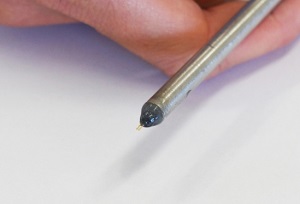 The Conduino's closely-spaced electrodes come from a stripped-down micro USB plug. (Photo Credit: Sonia Fernandez)measure fluid properties such as water density.
Frustrated with the frequent breakage of the probe tip, a University of California Santa Barbara mechanical engineer decided to go the DIY route. The expert in fluid dynamics recruited a friend who also happens to be a microelectronics and sensors expert from the Politecnico di Milano, Italy. The pair set about designing and building a conductivity probe using off-the-shelf components.
The main design challenge — replicating the fancy probe tip with its closely spaced electrodes — was solved by cannibalizing gear found in junk drawers everywhere: a micro USB connector plug.
The new modular device can be USB-powered and incorporates several sensors operating in parallel, as opposed to the single sensor of the commercially available device. Since the portable probe measures conductivity and is Arduino-based, the two named it "Conduino."
While some experiments and operations require conventional instruments for highest-resolution measurements, the Conduino achieves the same level of performance as the commercially available devices for most applications.
Scripps Institution of Oceanography at University of California San Diego plans to adopt the Conduino for a course on ocean instrumentation.