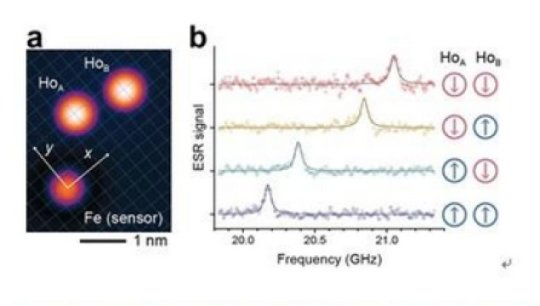 One bit of digital information can now be successfully stored in an individual atom. This result is a breakthrough in the miniaturization of storage media and has the potential to serve as a basis for quantum computing. Credit: IBSSince the advent of computers, we have been trying to reduce the size of storage devices and, at the same time, make them denser so we can store more bits. In terms of the number of atoms needed to store a bit, nowadays, with current technology, we need around 1,000,000 atoms to hold a single bit of information.
This month an international team of researchers working at IBM's San Jose research center announced the creation of the world's smallest switch, made of a single atom. A paper published in the journal Nature describes this achievement as the ultimate limit of size reduction in magnetic storage. The research and discovery, made at the San Jose research center, was led by Andreas Heinrich, Director of the Center for Quantum Nanoscience within the Institute of Basic Science (IBS, South Korea). To give an example of these astounding results, once the technique is commercialized, it could store the contents of the whole iTunes' library of songs on a device the size of a credit card.
The technique used by the researchers was to manipulate a single holmium atom using a scanning tunneling microscope (STM.) An STM has a special tip (probe) small enough that allows the user to view and to move individual atoms; it can also be used to apply current pulses to the atoms. Using the STM, the researchers placed one atom of holmium on top of a magnesium oxide plate (to stabilize the magnetic poles), and they found that applying electric current to the microscope's probe would change the magnetic orientation of the atom between two states. These two states (on/off) can be used to represent bits 0 and 1.
The team found another interesting property of holmium atoms. If more atoms are placed at least one nanometer apart, the ability of individual atoms to store information is not disturbed. In other words, the magnetic field of one atom does not impact its neighbor. This is something unique with holmium atoms. "There are no quantum mechanical effects between atoms of holmium. Now we want to know why," says Heinrich. "Holmium atoms can be arranged very closely together, so the storage density using this single-atom technique could be very high. We have opened up new possibilities for quantum nanoscience by controlling individual atoms precisely as we want. This research may spur innovation in commercial storage media that will expand the possibilities of miniaturizing data storage," he says.