Camera systems specifically designed for forklifts are available from Rear View Safety (Brooklyn, N.Y.). These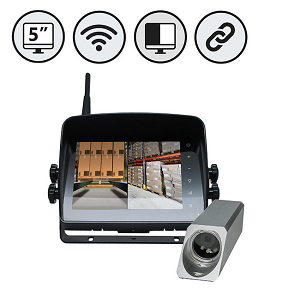 Wired and wireless backup cameras from Rear View Safety are designed to prevent forklift accidents.systems can increase productivity while preventing forklift accidents, which cause around 34,900 serious injuries and 85 deaths annually in the U.S.
The RVS-77F6033 Safety Camera System for Forklifts features a 5" TFT LCD digital color display equipped with back-lit buttons that illuminate in the dark. The system includes three unique mounting options: select from a flush mount, a U-bracket or a traditional mount. The heavy-duty waterproof camera can be drilled into the fork or affixed with an included adhesive, and provides a precise 45 degree viewing angle for examining pallets. A forklift rewinder cable, sold separately, helps with installation and extends or retracts as the forks rise and fall.
A wireless safety solution for forklifts is also available. The RVS-557FW Wireless Safety Camera System for Forklifts with 5" Dual Screen Display installs in minutes and features instant pair, allowing the operator to pair the system without leaving their seat. Two cameras can be viewed simultaneously with the dual screen display. The waterproof camera has a magnetic base, further easing installation. The system is equipped with four video inputs, allowing for the connection of up to three additional cameras.