Power management and industrial automation solutions provider Delta will participate at ProMAT 2023 from March 20 to March 23. Delta will present its cutting-edge power systems and smart industrial automation solutions to boost the productivity and energy efficiency of e-forklifts, automated guided vehicles (AGVs), conveyors, loading docks and other applications in the warehouse and logistics sector. Key highlights include the brand new MOOVair 30 kW wireless charging systems capable of charging large e-forklifts wirelessly with up to 95% efficiency; stationary and wireless chargers and integrated brushless DC gearmotor for AGVs, and the 3D time-of-flight (ToF) camera for robotic palletizing systems on loading docks.
For large e-forklifts, Delta presents the new MOOVair 30 kW wireless charging system and the low speed e-vehicle motor drives. To power up the forklifts in a smarter way, the 30 kW wireless charging system adopts advanced contactless power transmission technology and has up to 95% peak efficiency when providing wireless charging for large e-vehicles. The system enables effective, fully unmanned charging over a gap of up to 150 mm for various batteries, sparing manpower, maintenance cost and connector wear. The compact low speed e-vehicle motor drive BTD series drives e-forklifts with a higher efficiency. It features outstanding performance and strong drive capability, is up to 16% smaller than similar models and supports various motors, including induction, hub, and permanent magnet synchronous motors. The BTD series is also capable of HMI and GUI integration and has highly customizable software.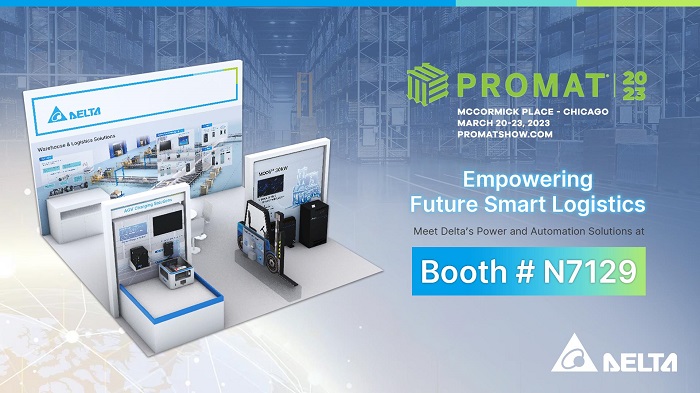 Source: Delta

For small AGVs, Delta offers the MOOVair 1 kW wireless charging system and the brushless DC gearmotors. The 1 kW system features an up to 20 mm airgap wireless power transfer and wall plug-to-battery efficiency of up to 93%. It is composed of a primary unit, which is connected to the AC supply, and a 1.5 kg lightweight onboard unit to charge all types of 24 V/48 V batteries. Another highlight for AGV systems is the new integrated brushless DC gearmotor. It combines a servo system, an encoder and a reducer as an integrated motion drive solution for AGVs. With the coupling-free gearmotor design, it meets the demand for an AGV/autonomous mobile robot chassis that offers ease-of-assembly, high efficiency and space-saving features.

During the ProMAT show, Delta will also demonstrate various automation solutions for loading docks, conveyors, sorting channels and more. One of the highlighted innovative products is the new 3D ToF camera DMV-T series. It employs two sets of ToF sensors and a set of industry-level lenses to capture images and transform data into a depth map to help guide equipment. Featuring a processor highly integrated with smart computing capability, the DMV-T series fits into robot systems to achieve intelligence and is able to enhance palletizing speed and precision when applied to loading docks. By covering the whole process of intra-logistics, Delta offers faster, more convenient, and more orderly parcel flows with its smart logistics solutions to help logistics companies achieve digitization and gain competitive advantages.

Visit Delta's booth N7129 at the Robotic and Automation Solution Center during ProMAT 2023 in Chicago to learn more about Delta's smart power and automation solutions for warehousing and logistics.