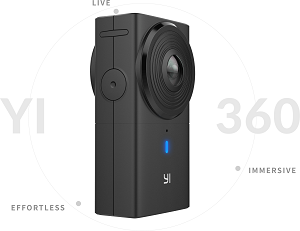 The 360 VR Camera. Source: YI
YI Technology (YI), a provider of advanced, intelligent imaging technologies, will unveil two new smart imaging devices at CES 2018. The company will showcase advancements in the virtual reality (VR) space, and a new smart home system with artificial intelligence (AI) will join YI's growing product line of high-quality, affordable camera solutions.
The YI Smart Home Camera features artificial intelligence, pan-tilt-zoom (PTZ), 360-degree panning mode, combined SD card and cloud storage options. Additional details, including the product name, technical details, pricing, exact availability dates and quantities, will be released in January 2018. Product demonstrations will take place at the YI CES booth 21709 during January 9-12, 2018, in Las Vegas, Nevada.
YI Technology will also demonstrate the YI 360 VR Camera and the YI HALO VR rig built in collaboration with Google, offering attendees hands-on experience with each product.
Other solutions on display will include a 4K+ Action Camera, M1 Mirrorless Camera, dome and 1080p home cameras, an outdoor camera, Ultra Dash Camera, the HALO 3D 360 Camera and a range of accessories, including a waterproof case, pet mount, selfie stick and gimbal.