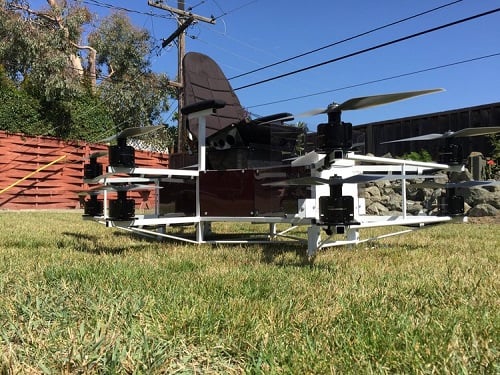 The FlytCycle hovers a few feet off the ground. Source: Flyt AerospaceDrones have become a massive part of our daily lives, moving beyond personal use and into a vast number of commercial operations including industrial, military, space and delivery.
But now we are seeing a new type of drone being created for personal transportation. First came the helicopter drone motorbike that combines a number of dangerous vehicles into one super-dangerous joy ride. Now we have the FlytCycle, a hoverbike that can traverse any terrain just a couple of feet off the ground.
The makers of the hoverbike, Flyt Aerospace, call it an over terrain vehicle (OTV). It was originally designed for personal use. However, the company believes it could also be used beyond recreation in areas such as search and rescue, military, emergency services and more.
The hoverbike is all-electric, has human-sized multi-rotor vertical take-off and landing (VTOL) and can fit one person.
Flyt Aerospace was founded to develop personal flying machines that eventually could be used as transportation vehicles. The FlytCycle is a prototype and the company is dealing with limitations with the batteries, something it will work on in future iterations. The prototype was built by a college graduate with a business degree, working out of his garage. He is now attempting to commercialize that vision and to deliver a multi-rotor technology for the masses.
To learn more about the FlytCycle, visit the Flyt Aerospace's web site.